Everybooooo's Spookin' For the Weekend – Things That Crawl In The Night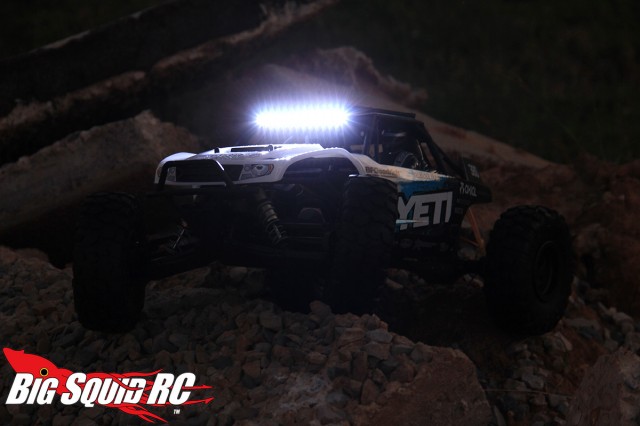 Happy Halloween to you and yours! This week we are looking at things that go bump in the night!
Running your scaler at night is extremely fun and if you've never tried it you really should. It's becoming more and more popular for clubs to take to the trails after the sun has gone down. The difficulty factor is upped considerably for both truck AND driver (it's pretty easy to get whacked in the face when you can can't see the trees in front of you!) and terrain that was easy before can seem much tougher when the visibility is low.
The rise in scale, high quality, affordable LED vehicle lighting is responsible for the boom. The folks at Gear Head RC, Vanquish, and Axial make some killer pieces to brighten the night. The above shot is my brand new Axial Yeti sporting a Gear Head Trail Torch mounted to their new low profile roof rack. I've been using this bar atop my SCX10 for close to 2 years now so, for me, installing it on the Yeti is a literal passing of the torch to my new main vehicle. (SCX10, we've had some good times buddy…*pours a 40 on the ground*). The delrin mount is pretty trick and protects the bar during a rollover. I plan on writing up a detailed mini-review on both products in the near future.
Anyways, if you are hardcore about running when it's dark, a simple bar or few buckets won't suffice; you'll need to look into rock lights. Rock lights are LED's that mount either under the body or somewhere on the chassis to illuminate the whole under carriage. When I first got into scale crawling I saw these lights and thought it looked completely stupid. "This is the r/c equivalent of a kid heading to Auto Zone and putting neon running lights on his Honda Civic", I thought. Boy, was I wrong.
The Axial RECON G6 series is infamous for doing a night stage, and it was here that I discovered the importance of illuminating the actual terrain under the truck. You see, a light bar will shine straight ahead leaving a big deadspot/shadow in front of the tires. This makes wheel placement extremely difficult to see. A good set of rock lights coupled with a bar will turn your vehicle into an all seeing glowing orb, much like Mr. Burns in the woods after a life of working in the Springfield nuclear powerplant:
So yeah, rock lights in tandem with a good light bar are a must if you want be fully capable of taking on anything the dark throws at you. The trucks in the shots below are outfitted with Nickelfab rock lights…which I soon hope to have plumbed throughout the Yeti. Again though, that's for another time 🙂
One last thing to consider before taking on the night: make sure you aren't running illegally! National and county parks are traditionally popular spots for crawling and trailing, but pay attention to park ordinances before attempting to run after sunset. Many local parks around me close an hour after sunset so you don't want to be ticketed by an angry ranger. It's best to just call the Parks Department office for permission to put on a "night hike" OR just wait for a designated special day where they stay open late. To give an example, one of the biggest parks in St. Louis stays open until 10pm and permits night hiking/mountain biking one Wednesday a month so this has become the go to spot for big r/c scaling night meets.
Whatever you do, be safe and remember to bring friends…a long line of illuminated r/c's is a real sight to see. Scaling doesn't have to stop at sunset!
That's it for this week, have a great weekend and be sure to snag lots of candy tonight! Happy Halloween!
For more Axial news on BigSquidRC you can click here. For the latest in scale r/c you can click here.