Everyzombie's Spookin' – Howler Customs Battery & Electronics Tray
Happy Halloween all ye spooks. Hope it's a good one for you and your kinderlach. I apologize for the mediocre pun at the top of the page, but all Hallow's Eve is my favorite holiday and I'm feelin' festive!
When discussing hop-ups for the Axial SCX10 family of trucks, it seems that the battery tray is either bottom of the list or not on it at all. It's just not a "sexy" item in the way axles or tires are. Despite this, it's really important to overall vehicle performance. I' ve recently found an aftermarket solution that I really like, but before getting to that let's talk about the stockers for a minute.
Depending on which version of SCX10 you have, the battery tray will be mounted up front or in the rear. In most cases you want to get the tray mounted up front (Axial has a great step-by-step right here) as it helps maintain forward weight bias when you are climbing. It's not perfect though, as even when in forward position it still sits very high on the chassis.
Probably the best place to mount the battery is in front of the transmission and behind the shock hoops. This keeps the weight up front and low, creating a very desirable effect on vehicle center of gravity. There are various ways to mount your battery in this position, but on my newest SCX10 I've found the ticket – a Howler Customs Battery & Electronics Tray.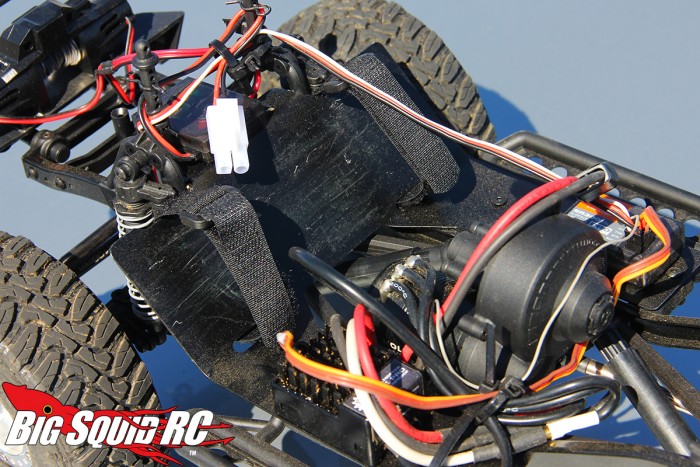 The Howler Customs tray mounts to your SCX10 on top of the rock sliders and to the front frame cross member by using existing hardware. You then use the velcro battery straps from your original tray to retain your battery. It's made of 20 GA steel, so it puts additional weight up front as well. The battery placement is perfect and it holds very securely.
While it works great as a battery holder, the real beauty of the piece is that it also doubles as an electronics tray with plenty of room for various gizmos. You can easily install a second, smaller battery for winch/lighting or whatever else you may need. Given how cramped the OG Axial electronics box can get, it's really nice to have a lot of space with this getup.
I've been using mine for close to two months now and it's worked out great. The piece is durable and I'm very happy with how it helps the truck perform.
With a price of only $20, it's super easy to recommend. It could also make a great, inexpensive stocking stuffer for the scaler who seemingly already has everything (yes, I'm sorry I mentioned Christmas when it's technically not even Halloween yet). It's a quality, ingenuitive piece.
Happy Halloween!
Click Here to see more scale r/c news on BigSquidRC