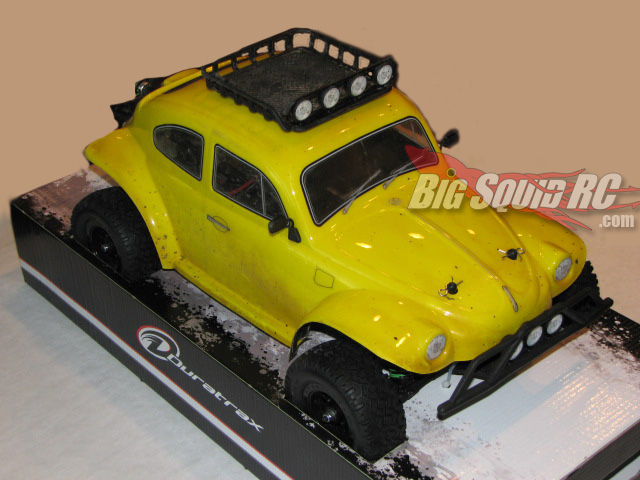 We have been breaking a lot of RC news lately, and here we are again with another world exclusive! We need to file this all under the 'rumor mill' because nothing is official till the press release ships.. but here is the scoop! Coming soon from DuraTrax is an officially licensed VW Bug! It sounds like it's going to be based on the Evader DT which we were pretty big fans of! (Click that link to read all about it). It is going to come with several bodies, but this one is one of my favorites as it already looks dirty right out of the box! The details are great with everything from a roof rack, side mirrors, and a detailed exposed engine in the back! Thanks for listening to us DuraTrax when we ranted last year about how realism is the direction companies need to go! We had to be a little creative with the photo because we didn't want anyone getting in trouble or finding out where we got it from.
Other information, we hear it's coming with a 2.4gHz Futaba radio system.. yes a FUTABA system! A 19T brushed motor.. and it gets better for us bashers, it's going to be waterproof! Aww yea! Call us excited! Of course we will give you more details as they come in, but for now we know a lot of the important stuff!
Get ready to place that TowerHobbies.com order because it's also rumored to be coming in November.