Exotek Blitz Chassis Brace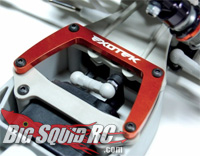 The folks from Exotek just released a new chassis brace for the HPI Blitz. Any time a company shows a little love towards the Blitz it makes me smile. The new brace strengthens one of the weaker points on the chassis and helps prevent the front from damage. They are available in orange or black.
Check the Exotek web site for more info.