Exotek Racing EX14 Chassis Info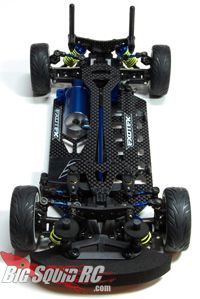 ……THIS JUST IN……
Exotek Racing has just released for sale their EX14 chassis upgrade for the Sportworks Recoil Pro. It has been re-designed so that you can mod the lower front and rear arms to be able to use droop screws. It is sure to be a great step up in helping chassis tweak by having the one peice top deck instead of the two piece that comes with the Recoil Pro. Sold separately is new carbon shock towers with more shock placement holes for fine tunning that set up.
Mike Rydwel is the brain child behind all the great products produced for micro racing at Exotek Racing. Since Exotek has hit the market place, they have won a number of Micro National Titles in just a short time.
Don't forget to check out all the other cool micro products they have available….
Until Next Time,
MICROMAN