Exotek Racing Mini LST Wing Mount and Wheelie Wheels!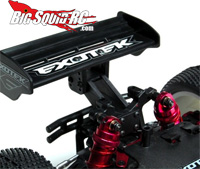 First up from Exotek Racing is a true heavy duty wing mount that is 100% compatible with the stock Mini LST Shock tower (mini lst2/buggy/Raminator also). Features adjustable wing height. Note the wing is NOT included. For all those that want the cool wing look as well as getting some actual usefulness that a rear wing can provide, the Exotek guys have you covered.
Next up are these awesome looking Wheelie Wheels! This actually seems like a really cool idea!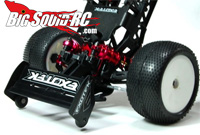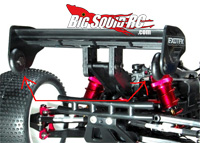 For all those bashers out there like us, who just happen to put a little too much horse power in your mini's, these wheels will help protect your wings as well as let you do some insane wheelie passes! The kit comes with 2 wheels, 2 axles and screws. Pretty cool.
Jump over to the Exotek Racing and check out all their stuff! Make sure to tell them Big Squid RC sent ya!