EXOTEK SCX-T short course conversion for Losi XXX-T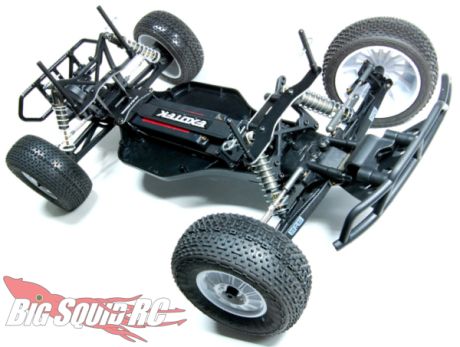 Another day, another short course conversion for the XXX-T. This one is from the good guys of EXOTEK and they are calling it the SCX-T.  The various chassis parts are made with G10 glass/epoxy material to match the flex of the stock XXX-T chassis. Also included is a special set of shortened front axles to bring the front-end width into compliance with ROAR specs.  Special mounts are provided to use the Losi Strike bumper in the front and Slash 4×4 rear bumper out back.  To complete the conversion you'll need to provide SC10 tires, a SC10 or Strike body, and the bumpers. It's made to work with the Matt Francis, Matt Francis 2, and CR editions, but other editions, including the Desert Truck and Speed-T, can be used with a few extra parts.
This conversion will set you back about $65 clams and it'll be shipping in the next week or two.  Check out the EXOTEK web site for all the details.