Fantom Racing Brushless Motor Bearing Oil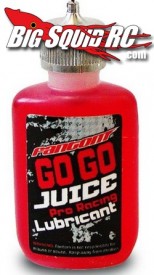 The bearings inside our brushless motors are subject to untold abuse. They are exposed not only to dirt and water, but also to high temperatures and incredible rpm's. Fantom Racing has some premium bearing oil to help prolong bearing life. Fantom Go Go Juice utilizes a special blend of lubricants to keep drag down and corrosion protection up. Cost is under $6 for a half ounce bottle and you can get complete information HERE.
Interested in reading one of our brushless reviews? Click HERE.