Fantom Racing's new 1S 5000mAh Li-Po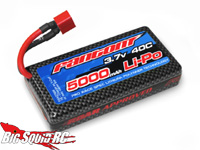 Built from only the highest quality material comes the new 1s pack from Fantom Racing. Engineered for all 1/10th and 1/12th scale applications this high output 40c pack will scatter the competition! Already connected onto the 13 gauge wire is an ultra dependable Deans plug to provide a low resistance connection. Designed for traditional 4 cell locations and is ROAR approved this pack includes a "No Questions Asked" 50% off warranty for the 1st year!
SPECIFICATIONS:
* Capacity: 5000mAh
* Voltage: 1-Cell (1S) / 3.7V
* Continuous Discharge (C-rating): 40C Continuous (200 Amp) / 80C Burst (400 Amp)
* Weight: 146 grams (5.15 ounces)
TYPICAL TURBO 35 READINGS @ 35-amp DISCHARGE:
* Average Voltage: 3.68v
* Average Runtime: 504 seconds
* Internal Resistance: 3.5
Drop by Fantom Racing for more info and look for the on the shelves soon!