Firelands Anza LCG Conversion for Traxxas Slash Review
Firelands Anza LCG Conversion for Traxxas Slash Review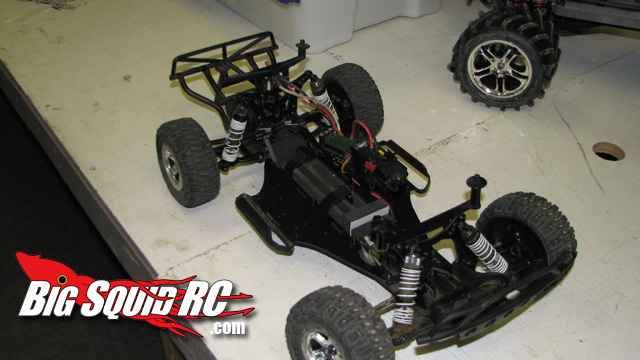 It seems like forever ago that we heard about the Firelands Group was going to be putting out a LCG (Low Center of Gravity) Chassis upgrade for the Traxxas Slash. Then when we finally got to see a picture, we thought WOW, this could be interesting! Then we got one in our hands, it was time to put it to the test! We dusted off our 2WD Traxxas Slash, and got to work! Keep reading to see how it went..

From: Anza RC (Firelands Group)
Direct Link: Anza RC Conversion Kits

We were going to just do the LCG kit, but ALL the Anza RC stuff was looking so tempting, we had to do it all!

Specs- –
LCG Chassis Set, Slash – CNC Aluminum Chassis, Carbon Fiber Components, and all necessary hardware. $119
Rear Carbon Fiber Shock Tower Kit – $38
Front Carbon Fiber Shock Tower Kit – $21
Aluminum Rear Hub Carriers – $30
Wheel Hexes – $15
Hinge Pin Set – $14
King Pin Ball Stud Caster Block Kit – $29
Rear Axle Kit – $13

Total Cost: $279

Primary Competition– STRC LCG Slash Kit

What's In The Box– All the Anza sets come complete with anything and everything you need to install. From nuts and screws to bearings and washers. Also tiny sheets of instructions/drawings in each kit. You even get a couple extra screws in the big kit. (I hope they were extra..)

Build Quality– The build quality of the parts was top notch. We had no problems or defects with any of the parts.

Test Drivers– Brian, Wrench, Adam the Intern, Chris from Raceworld Raceway

Test Venues– Parkinglots, Raceworld Raceway, skate park

Build Notes– Nothing was overly complicated, but there are a LOT of parts here. Don't think you are going to just whip this together in a hour. Take your time, do it right, it will be worth it. And while you have everything taken apart, take a couple of minutes and clean off the parts you are keeping from the Slash. (Cough..cough. 🙂 )
We used our old slash that has taken a serious beating over the years. It's been smashed and bashed like there was no tomorrow. We kept the RPM a-arms we already had, and they worked fine.

Set-up– The open frame of the chassis does give you some options for locating the ESC. We were a little under the gun before hitting the track and our wires were not quite long enough to get us on the other side of the chassis easily, so we have the ESC just behind the receiver box in some of the pictures. You are going to want it on the opposite side.

In Action: – The Anza LCG conversion compared to a standard Slash is night and day! The truck jumps and handles beautifully. After driving it, one of the first comments out of Chris's mouth were 'Wow, it runs really nice.'. The next day Adam got his hands on it and his first comment was 'The steering is awesome, it just digs in'. And they are both correct. This new chassis has the Slash cornering like it was on rails. It's one thing to eliminate the standard traction roll, but this truck now feels much more aggressive in the turns. In the air, wow! Wrench and I were skying this thing at the track like it was a buggy. Taking huge jumps, the truck just sailed and leveled off nicely. It has a good amount of control, and wasn't going nose up at all.

Once we were done being amazed at the difference, it was time for some durability testing. Big air, big crashes, I was driving it like it was one of Cubby's personal vehicles. No problems. At the skate park, we did our standard runs getting the big air, landing hard on the pavement and ended it with the jump out of the park, over the 10 foot fence. Twice. No problem. Even the giant air, it was flat and under control. We were worried about bending the aluminum chassis, but it took all the abuse with no problem.

Another impressive moment was the ability to take speed bumps at full speed! Normally this would cause our stock trucks to endo instantly, but the Anza LCG let us take the bumps and just keep going.

If you are a racer, and this sort of thing is within your rules, I can't imagine not running with one. This is probably the best handling SC we have driven.

Broken Parts– None, and we really have been beating on it good.

Best Mod Over $5– If you are going to buy the LCG Chassis, consider the rest of the Anza Slash parts. They have all been high quality and durable.


Looks pretty slick! In person it's really head turner!

This last gallery we compare it to a mostly stock slash so you can see the differences side by side.

Misc Notes– We changed so much on this build, and the resulting truck is awesome. I'm not sure why Anza just does not make some a-arms, bumpers, diff, and a few other parts and put out a high-end Anza branded race roller.
---
As with all of our stuff, if you see us at a bash, stop by and check out the vehicles we have with us. We may let you take a test drive, and at the very least get you some stickers!
SUMMARY
Time To Bash – 7.5/10 -There isn't much you are not going to touch. Take your time, it's worth it!
Workability – 9.0/10 – Everything is easy to get to, the build went smooth, and the quality is great.
Car Show Rating – 10/10 – Look at that thing! We were giving people whip lash when it was sitting out on the table.
Bash-A-Bility – 9.0/10 – So far nothing broke, even with huge air and hard hits.
Fun Factor – 9.0/10 – All the new control we have makes it a lot more fun to drive. Good luck catching it in a game of tag!
Handling – 9.5/10 – It's drives like a whole different truck. Jumps great, turns awesome.
Value- 8.5/10 – It's not cheap, but the quality and difference it makes is huge.
Big Squid Rating – 9.0/10 – Tentacles.. Want one of the best handling short course trucks you can build? Need to breath some new life into a Slash? This kit is a must if you are a racer, or serious basher wanting some big changes in handling and control!