Firespink281 Does Charity Good!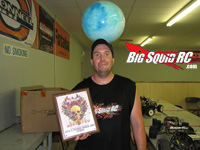 Our very own Bill 'Firesprink281' Stevens, basher, moderator, all around good guy is shaving his head for charity! If you haven't donated any money to a worthy cause yet this year, head over to THIS LINK HERE, donate a little cash, help some kids, and feel good about yourself! It's all part of the St. Baldricks Foundation, and we are very proud of Bill to sacrifice his head to the worthy cause! Good job Bill, you ROCK!
I have told Bill that if we can shave the BSRC Logo into his head, or at least the URL, that we will double our donation. 🙂
To make it a little more enticing besides just helping kids, I'll send free stickers to anyone who donates! So if you do make a donation, drop me an email and your address!