FMS Model has released a new 1:18 CHEVROLET Apache RC Rock Crawler RTR. The new rig features 6WD, Four Link Suspension, a Painted Injection-Molded Hard Body, and Remote Control Lighting system.  Let's dive into the new Chevy Apache and see what it's made of!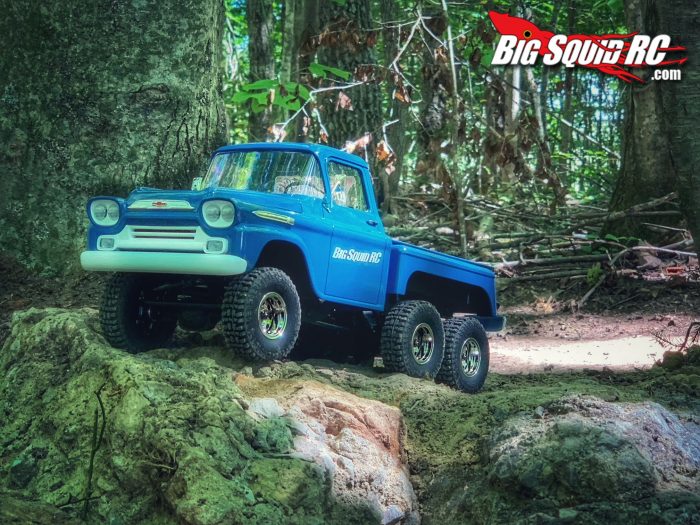 From: FMS Model
Direct Link: FMS 1/18 Chevrolet Apache Website
Unboxing video: Watch On Big Squid RC YouTube
Running video: Watch On Big Squid RC Films YouTube
Review By: Jeremy Griffith
Photography By: Jeremy Griffith
Test Drivers: Jeremy Griffith
Specs:
RTR or Kit: RTR
Ages: 14+
2wd or 4wd: 4WD
Shaft or Belt: Shaft
Electric or Gas:  Electric
Waterproof: Water Resistant
Scale: 1:18
Length: 13.03in (331mm)
Width: 4.76in (121mm)
Wheelbase: 6.57in (167mm)
Ground Clearance: 1.57in (40mm)
Motor: 050 Brushed Motor
Low voltage cut off: yes
Radio: 2.4GHz Radio
Differential: locked
Weight: 21.16oz (601g)
Servo: 3-wire 1kg Plastic Digital Servo
Screws: Hex
Chassis: Rigid metal ladder frame chassis rails
Bearings:  yes
Tires: D:56mm, W:19.2mm
Battery: 7.4V 380 mAh Battery
Part Number: FMS11820RTRBU
Street Price: $159.99
Run Time (measured by BSRC) 30 mins
Top Speed: 5km/h Max
Primary Competition: Axial Adventure, Element RC, and Traxxas.
Build Quality: The Rig was built well and ready to go!
Set up notes: You will need to install the rear bumper out of the box. Just make sure you don't install it upside down like I did at first.
Test Venues: Big Squid RC Kentucky Office, "Juicebox Holler"
Radio: The Little Radio packs a big punch with a ton of adjustments as well as controlling the lights from channel 3. The Radio also takes 4AAA batteries, so make sure to have some ready.
Turning: FMS has always done a great job at making sure the servos are strong enough for the little rigs. The 9 Gram servo turns on a dime along with having a good radius for the smaller 1:18 rig.
Crawling: Crawling with the 1:18 FMS Model's are always a blast. For the size of the rigs, they can get down with the best of them. The soft springs simulate weight to scale ratio on the rig and reacts as a full-size rig would. With the Chevy Apache having an 6×6 drive train, obstacles and rough terrain are easier to navigate and power through. The Apache can be top heavy at times but for the majority the rig can side hill well. Tires on the Apache are the same as the K10 and Toyota, good tires, and very scale but will fold over now and then. As far as hill climbs, the Chevy Apache is a goat and can make it up some wicked inclines. The longer chassis, additional wheels and axle keep the rig chopping and have less wheel spin.
Broken parts: So far, the FMS Chevy Apache is still running strong and has had no issues.
Best Mod: The Motors in the 1:18 FMS rigs have been the only thing I have encountered over the last year that can use a upgrade. Now we are very hard on them so that doesn't help, but if you are looking to upgrade, I would look for a better motor.
Summary:
Time to bash: Other than having to install the rear bumper, the new Chevy Apache was ready to hit the trails within 30 mins of its unboxing. Quick tip, start charging the battery then install the bumper. By the time you are finished with the rear bumper install, the battery should be close, if not finished charging.
Workability: Even with its smaller size the FMS Chevy Apache is easy to work on, along with modifying.
Car Show Rating: The details on the new Chevy Apache are fantastic. From the dash to the grill, FMS is not letting up on the scale wickedness that we have known to love. The opening hood, working lights and taillights put the FMS Apache on a level of its own. Personally I think making the Apache a 6×6 hurt the rigs show rating. Yeah, we all know a 6×6 can perform better than a 4×4. But this type of scale model would look so much better as 4×4.
Handling: Just as the other rigs from the FMS family, the Chevy Apache handles great. Strong servo and a great chassis layout combined with a 6×6 drive train, will make a beast out of any rig.
Value: As prices for everything are still going up, FMS is still doing their best to give the hobby an affordable and durable rig. $159 us great.
Parts Availability: Parts for the FMS rigs are easy to get and 90% of them share the same parts. The only downside is they will have to be bought online for the most part. Hopefully local hobby shops start to carry some parts.
Big Squid Rating: FMS has the hunger to be one of the top scale rig makers, they keep doing great work and continue to listen to their fan base, we expect big things from FMS in the future. The new Chevy Apache is a testament to the last statement, releasing body styles that no one has before and keeping it scale. The Chevy Apache will make a great addition to anyone's collection!
Enjoy the unboxing and running videos below. Don't forget to bash that subscribe button, every click helps!

Don't forget the thumbs up button! Thank you.