Freak Stuff Racing – Stainless Steel Lockers (mini review)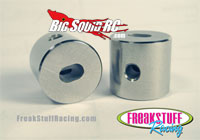 Who is not a bit frustrated by the drive line slop that most Axial AX10 trucks develop as the hard steel axle shafts grind away at the soft aluminum differential lockers? Well,
Freak Stuff Racing(.com) has developed a solution for the problem shown in the example below.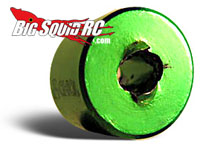 The people at Freak Stuff have developed a Stainless Steel Locker that utilizes the stock pin. The slop is greatly reduced utilizing a closer tolerance in the locker's cross pin hole. These replacement pieces are a direct fit in the stock Axial diffs. These parts are much stronger than the stock components, so the situation shown above will have a much smaller chance of happening to you. After running these for 2 afternoons, the slop has not returned to my test truck. These are well worth the effort to swap out even before your lockers just blow out.