Free Team Novak NovaLink Deal!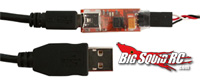 News from Team Novak, is that they are running a special promotion (notice the banners?) from now till October 31, 2010! With the purchase of the Kinetic (1S or 2S) you can get a free NovaLink setup! The NovaLink allows you to make changes and updates to the internal firmware of the Kinetic systems.
Here is a direct link to the coupon.(pdf)
For any more info and details, just hit the Team Novak website.