FreqEsKinz – Axial Yeti Wrap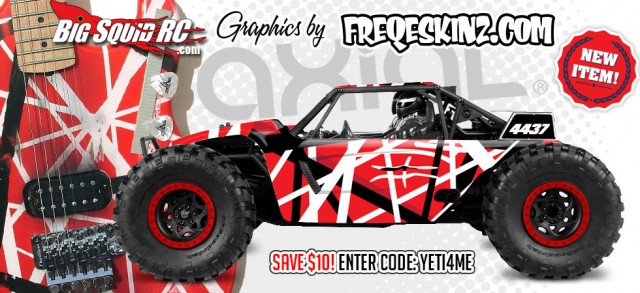 Do you have a Axial Yeti on the way? From the buzz, we are guessing you probably do! So if everyone on the planet has a new Yeti, how are you going to tell them apart? Our friends at FreqEsKinz have the answer! They now have a bunch of different styles/skinz to choose from that will fit that Yeti and make it stand out in the crowd!
The vehicle skinz are priced $45, but for a limited time you can get $10 off! Head over to the FreqEsKinz website, use the code YETI4ME to get the discount!
We have a favorite, but we aren't telling. What's yours?
Want more news about FreqEsKinz from Big Squid? Hit this link to see other products of theirs we have mentioned.
Did you see our Yeti review? If somehow you have missed it, you can check it Right Here.