FreqEsKinz – sKinz for Pro-Line Racing Bodies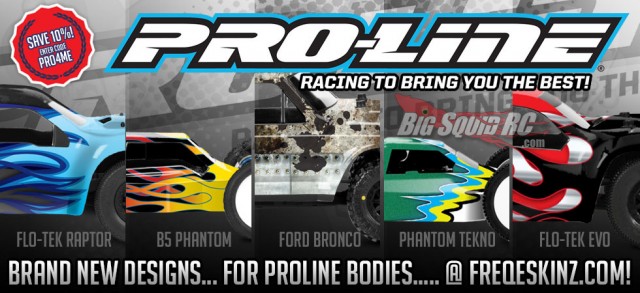 File this under 'Take My Money!', the FreqEsKinz folks have announced they now have a bunch of sKinz for many of the Pro-Line Racing bodies!
Not everyone can paint, or knows someone that can make their body look cool, but most people can apply a large decal. The new sKinz are available for the Flo-Tek SVT Raptor,Flo-Tek EVO SC, 1981 Ford Bronco, Dodge Ram True Scale, Phantom Associated B5, Phantom Tekno EB48.2, Phantom Mugen MBX-7 and the Ford Super Duty F-250 Cab.
They are made from a durable vinyl, and are custom cut for each body.
Head over to the FreqEsKinz website, use the coupon code PRO4ME to get a 10% discount!
Want more news about FreqEsKinz from Big Squid? Hit this link to see other products of theirs we have mentioned.
Anyone have a favorite design? They have so many, not sure what one to pick!