Full Details- Schumacher Cat K1 10th Scale 4wd Buggy Kit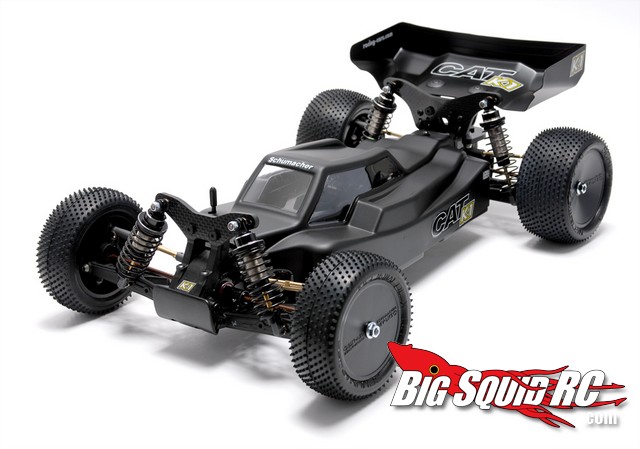 Schumacher teased us last week but now they've released full information on their all new uber 4wd race buggy, the Cat K1. If you are looking to go really, really fast off-road, the Cat K1 looks up to job. Some of the features and specs include-
* New Optimized 2 belt transmission with efficient low tension belts running on large CNC machined pulleys.
* New 2.0mm aluminium chassis with aerospace grade carbon fiber top deck.
* New Molded side pods for superb dirt protection.
* New Mid motor layout with adjustable motor position.
* New Chassis mounted, angled steering bell cranks for low C of G.
* New Steering rack design for improved dynamic ackerman throughout the steering range.
* New Long top deck for superior flex characteristics.
* New Black anodized components for the aggressive stealth look. (We call that "murdered out" here in America)
* New Medium flex suspension arms as standard.
* New Stronger pivot blocks and pivot block mounting system.
* New 'High agility' small bore shocks with big bore springs, titanium nitride shafts, threaded collars and twin o-ring sealing.
* New Machined tapered pistons with different colors for easy identification.
* New Optimum weight distribution with adjustable saddle pack layout.
* New Larger layshaft bearings.
* New Belt adjustment for consistent driveshaft geometry at all belt tensions.
* New Cab forward body shell for improved jump handling, bump stability and high speed cornering.
* New Large high down force rear wing enhances cab forward aero package.
* Super free, limited slip ball diffs with extreme high strength silicone nitride balls.
* Strong steel universal driveshafts.
* Rubber sealed, super precision ball bearings throughout.
* Smooth twin pad vented slipper with easy access adjustment.
* Unique motor clamp mount to fine tune weight distribution.
* Optional gear diff available.
* Rigid 4mm aero space carbon fiber shock towers.
Hit up the official Schumacher Website for more information on the Cat K1 and all of their other fine products. While you are at it, click This Link to view more Schumacher news right here on BigSquidRC.