Full Scale Racing at Traxxas TORC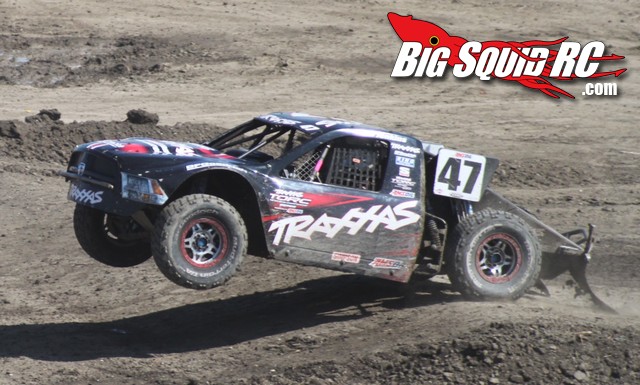 Route 66 Raceways in Joliet Illinois hosted round 8 of the 2012 Traxxas Torc Series last week. While some TORC tracks are large outdoor facilities, round 8 was the equivalent of a supercross. The Route 66 facility is normally a half mile banked dirt oval, but when TORC comes to town they turn the infield into an off-road paradise. The track featured a 100 foot tabletop, a 4 jump rhythm section, mole hills, and it also utilized over half of the dirt oval.
The TORC officials kept the program moving right along, it was not one big infomercial with a little bit of racing thrown in like some other forms of racing have become. The TORC event had a lot of racing, close, door to door, end over end, style racing. All things considered, TORC racing is a great spectator sport, I hope the series expands to new venues so more people can experience it in person.
TORC Series Round 8, Friday Night Final Results
Super Buggy
1. Mitchell DeJong
2. John Frana
3. Scott Schwalbe
4. Andy Zipperer
5. Jerry Weaver
PRO Light
1. Casey Currie
2. Andrew Caddell
3. Shawn Morris
4. Brad Lovell
5. Ross Hoek
PRO 2wd
1. Rob MacCachren
2. Chad Hord
3. Bryce Menzies
4. Mike Oberg
5. CJ Greaves
PRO 4×4
1. Ricky Johnson
2. Johnny Greaves
3. Scott Douglas
4. Mark Jenkins
5. Adrian Cenni