Futaba 18MZ has aspires to big things.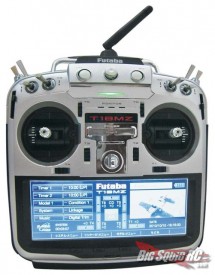 This is some news from the flyboy side, but it's just too impressive to pass up.  Futaba has announced a new 18-channel, computer controlled, 2.4 GHz transmitter, the 18MZ.  It's packed full of high-end features like a touch screen LCD for changing all the settings.  You'll also find a SD card slot for storing multiple model settings and future firmware updates.  There's a USB port for connecting USB thumb drives for storage, or plug it in to your computer for downloading flight telemetry, or maybe you want to use a keyboard and mouse with your transmitter, well now you can… wait, what?  And to top it all off, Futaba decided to throw a camera into it, too.
So what features can we expect from Futaba's next radio? I think 3G/4G data connectivity for web browsing between flights, cell phone and/or Skype compatibility, text messaging, a video and music player for those boring waits in the pit area, a larger touch screen with higher resolution, and maybe a HD video camera.  You know what, they should just put a big antenna on the iPad.  Oh wait, somebody is already working on that.
The absolute best feature of this radio though, is that it's compatible with FASST, FHSS, and S-FHSS receivers.  Now, if only the 4PKS had that.  The 18MZ should start shipping later this summer, no word on price, but First Born or Arm and Leg are probably accurate.  Check it out on the Futaba website for the full story.