Futaba 2010 1/8 Scale Electric Challenge

Just a reminder for all you 1/8th scale electric buggy guys, the Futaba 2010 1/8 Scale Electric Challange is just a few weeks away!
It's an interesting race that takes place over two days at two different tracks! August 28th, 2010 they will race at RJD Hobbies in Lincoln Illinois, then on the 29th, the racing continues at JTEC Raceway in Tilton Illinois!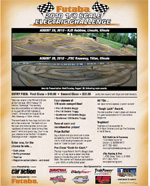 You can download the PDF clicking HERE or on the mini flyer image. Please right click/save as.