Futaba 3PM-X 2.4GHz FASST Radio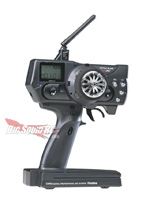 Thew new Futaba radio being called the Futaba 3PM-X 2.4GHz FASST Radiois promoting itself as a sort of 'do it all' radio saying it's perfect for cruising, crawling and crushing! It makes it unnecessary to need different radio's for racing, rc rock crawling, and monster trucks with the ability to setup a two or three position switch to control things like dig, or front or rear only drive. That's cool. Here are some features:
• Four-wheel Steering Mix – switch between crab, all-wheel steering, front-wheel only or rear-wheel only, with just the push of a button.
• Digital Trim Steps – choose a level of trim adjustability, from fine-tuning finesse (1) to maximum travel (16).
• Adjuster Function – keep throttle and steering throws as well as centering at programmed ideals for optimum performance.
And don't forget about the 2.4GHz part! Sounds like this might be the new 'must have radio' for bashers! Looking forward to checking it out at iHobby! Hit the www.2.4gigahertz.com site for more details.