Futaba 3PRKA entry level radio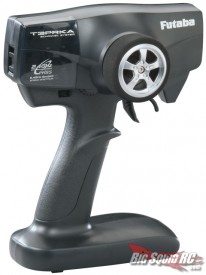 Surprisingly there's still some companies out there that haven't realized the importance of 2.4 GHz radios yet, and they're still including 27 MHz gear with their RTRs.  Or maybe you're one of the more intelligent fellows that decided to buy a kit rather than a RTR and now you need a radio to go along with it.  For both situations Futaba has a new budget radio system for you to check out.  Their new 3PRKA is a 3 channel, 2.4 GHz radio built on Futaba's FHSS technology.  Being a budget radio, there isn't much in the way of extra features, but you will find the usual collection of trims, end point adjustments, and servo reversing.  The package also includes a R203GF receiver which is a high voltage capable receiver that will take 4.8 – 7.4v.
The 3PRKA will be hitting around the middle of this month with an MSRP of $89.99 while street prices will likely be a bit cheaper.  Keep an eye on the Futaba website for more info.