Futaba 3PRKA FHSS 2.4 GHz Radio Review
THE Futaba 3PRKA FHSS 2.4 GHz Radio Review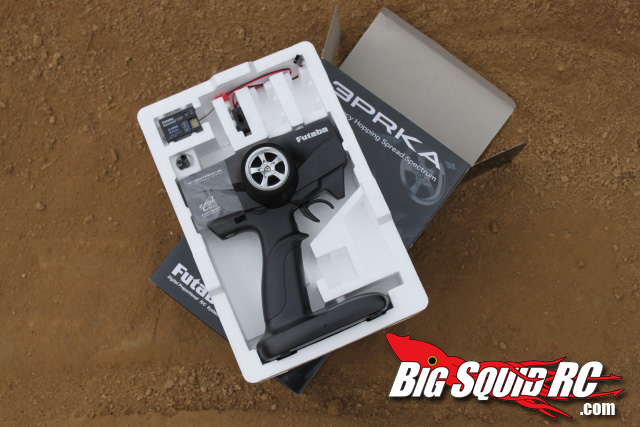 We live in an RTR world- lay down some cash and start driving an hour later. RTR's are great and have certainly taken our hobby to entirely different level, but… they are typically loaded with junk electronics. Futaba thinks they have the answer for this problem- an affordable yet quality replacement for your sub-standard radio gear. How does the Futaba 3PRKA stack up? Read on…
From: Futaba
Direct Link: Futaba 3PRKA
Reviewed by:Cubby.
Specs-
Transmitting Frequency- 2.4 GHz
Power Requirement For Transmitter- 4 AA cells
Transmitter Current Drain- 100 mA or less
Transmitter Weight (with batteries)- 13.4 oz (379 grams)
Receiver Dimensions- 1.54″ x 1.02″ x .39″
Receiver Weight- 8 grams
Receiver Operating Voltage- 4.8 to 7.4 VDC
Receiver Battery Failsafe Voltage- 3.8 VDC
Receiver Current Drain- 30 mA
Channel Reversing- Throttle and Steering
Trim Setting- Throttle and Steering
Dual Rate Dial- Steering
Third Channel- Yes, via switch
Warranty- Limited 1 year
Street Price- $70
What's in the box:
PRKA transmitter, R203GF receiver, manual, and an on/off switch. All you'll need for a typical installation in an electric rc car is 4 AA batteries for the transmitter.
Build Quality– Everything looked and felt well done for this price point.
Test Drivers– Cubby, Brian, Ryan R.
Test Venues– RC Outlaws in Collinsville Illinois, RiverCity Raceways in Peoria Illinois, various parking lots and driveways.
Set-up Notes– Receiver came pre-bound to the transmitter making set-up very simple. We used the 3PRKA in our test HPI Bliz ESE on both a Castle Mamba Max speedo and a Novak Havok Pro SC system. We used a Hitec servo while testing.
Feel In Hand– The included trigger is worlds better than most RTR equipment, but it's not the same uber unit used on the 3PRKA's bigger brothers the 4PL and 4PKS. For those of you that prefer a small bit of "wiggle" room in the trigger, you'll love this one, it's not as snug as the 4PL/4PKS trigger, but it's not as loose as a typical RTR radio. The steering wheel was covered in a high quality soft foam which felt on par to nearly anything else on the market. The grip was hard plastic (a reality at this price point) that was more comfortable than most RTR radios I have used. While the grip wasn't bad, the rib that keeps your middle finger on your trigger hand from sliding upwards was slightly too short for maximum comfort. The distance relationship between your trigger hand and your steering hand felt very comfortable. The 3PRKA felt slightly top heavy, but not so much as to be classified as "poorly balanced". Overall- when compared to typical junk RTR radios the 3PRKA was a nice improvement in comfort.
Ease of Use– The 3PRKA is exceptionally easy to use- simply pop open a small lexan door near the rear of the transmitter to access the trim dials and channel reversing switches. We had no issues calibrating either of our two speedos to the Futaba.
Features– To keep a low price point and keep things easy to use the 3PRKA isn't overloaded with features. What it does come with are the essentials- trims, channel reversing, steering dual rate, and throttle endpoint adjustments.
Appearance– Appearance is a very personal thing, but among our test crew we liked the no antenna look, and loved the 5 spoke wheel. Overall? The 3PRKA is a much better looking radio than I've ever seen come out of an RTR's box.
Driving Performance– I compared the 3PRKA back to back against a high end Spektrum transmitter, and the budget minded Futaba more than held its own. Throttle feel on the Futaba had no perceivable "lag" compared to the high end Spektrum unit, and if anything the throttle felt more linear. I must note the difference in feel was so small that what I was feeling might have been more perception than actual fact, I'd like to have backed up my feelings with a blind test, but unfortunately that was impossible due to the large variation in "feel in hand" between the Spektrum and the Futaba. Steering wise both transmitters felt very similar, and I did not detect any "lag" on the Futaba.
Weight– The Futaba 3PRKA comes in at a feathery 379 grams. Comparing notes to our Transmitter Shootout 379 grams would have nearly have won the weight category. The break it down, the Futaba is extremely light, you won't have a problem driving with it all day.
Price– The Futaba 3PRKA system has a street price of just under $70. Btw, the included R203GF receiver normally sells for $40 just by itself.
Radio Range– I know people who buy transmitters based strictly on their range, if you are one of those people you'll be quite happy with the Futaba 3PRKA. I recorded a range of 870 feet on flat ground before I started losing control of the truck. For comparison, 870 feet is longer than any non-Futaba radio that we had in our transmitter shootout.
As with all of our stuff, if you see us at a bash, stop by and check out the vehicles we have with us. We may let you take a test drive, and at the very least get you some stickers!
SUMMARY
Time To Bash – 10.0/10 -Receiver is pre-bound to the transmitter, just pop in 4 AA batteries and you are dialed.
Car Show Rating – 7.0/10 – Good looking radio at its price point, but not as good looking as more elite radios.
Bash-A-Bility – 10.0/10 -I've been told I'm more sadistic than most when it comes to durability testing, so I truly put the 3PRKA through its paces. I dropped the 3PRKA from over 10 feet high to concrete and repeatedly smashed it (full speed) with my 4S 8th scale buggy and the Futaba has lived to fight another day. Our test 3PRKA might be nicked and dinged, but it still works fine, even after uncalled for abuse.
Fun Factor – 7/10 – Basic features makes the 3PRKA easy to operate but limit its fun factor.
Range- 9.0/10 – The 3PRKA had incredible range, much longer than you are likely to ever use.
Value- 8.0/10 – Exceptional range, durability and operation make the 3PRKA a great value.
Big Squid Rating – 8.5/10 – Tentacles.. – Looking to upgrade the junk radio that came with your RTR? Want a cooler radio than the rest of the guys at your local bash spot? The Futaba 3PRKA is a quality radio at a very reasonable price point. On track the 3PRKA performs very similar to radios costing 4 times as much, has better range than some radios costing 4 times as much, and it can take intense abuse. The Futaba 3PRKA is easily the best radio at its price point, and IMO better than many other radios costing several times more.