Futaba 4PL Official PR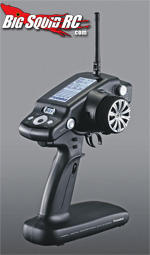 Last week at the iHobby Expo we had a little hands on with the new Futaba 4PL transmitter. This week we got the official rundown and details. We know it's going to have an amazing price point for all the stuff they packed into it. It has a ton of mixable and customizable features that allow 4WS and Dual ESC setup for crawlers, and brake mixing for the 1/5th scale stuff. Fail safe setup on all four channels with selectable FHSS/S-FHSS modes which allows users to select from several different receivers. 40 Model memory, ESC Link, huge 128×64 backlit screen, adjustable trigger positions, and a ton of other stuff.
Several people at the show came up to me and expressed how excited they were for this radio. Rarely do we see that, so I have a feeling Futaba has an upcoming hit on their hands.
Check out the the www.2.4gigahertz.com site for more info!