Futaba 4PLS 4-Channel T-FHSS Telemetry Radio System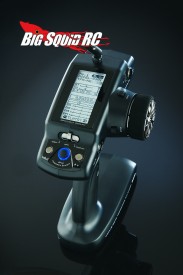 The old Futaba 4PL was known as one of the best basher transmitters of all time. It's replacement, the new 4PLS is even better yet keeps the same $249 price point.
The big news on the 4PLS is the addition of telemetry, allowing the driver to monitor temperature, voltage, and rpm in real time and the ability to log the data for future use. Some of the other key features include-
* Transmits in T-FHSS, FHSS and S-FHSS
* Huge 40 model memory
* 128 x 64 backlit LCD display
* Gyro, 4ws, dual ESC and brake mixing
* User settable data logging intervals
* Temperature, rpm, receiver voltage and external voltage telemetry
The part number for the new 4PLS is #FUTK1410 and they are said to be available right now. Hit THIS LINK for the official Futaba website.
TGIF, get crazy and check out this BSRC Mystery Link.