Futaba signs Austin Dunn, Rock Crawler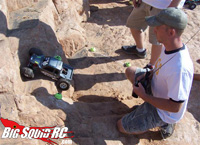 Some news from Futaba, these guys have really been cranking out the press lately, good for them!
Futaba is proud to announce the signing of one of the best rock crawling legends of all time, Austin Dunn. Austin has not only won more regional/national events than anyone else, but he is always on the cutting edge when it comes to innovative designs and has helped push the crawling scene to the next level.
When asked why he made the switch to Futaba, Austin had this to say: "When the nationals are on the line, I want to have 110% confidence in my equipment. With Futaba, I now have that confidence. Also, with their new 4PK, I will be able to do things I only dreamed about…it really opens the door for innovation!"
With Austin as the latest addition to the crawling team, Futaba will be a force to reckon with in 2009…in other words, Futaba rocks!