Futaba Sweeps up at Motorama!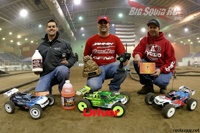 Big News from Futaba. Get Out the Broom!
This year's Motorama Event was one for the ages, with over 400 entries and over 40,000 spectators in attendance. In the pro truggy class, young gun and Futaba team driver Matt Gosch came from the back of the pack to catch the leader, Futaba team driver and former World Champion Mark Pavidis. What ensued from there was a two-lap shootout for the ages! The lead went back and forth but in the end, it was the young superstar showing the former World Champ how it's done! Futaba team driver Taylor Peterson got a front row seat to the action as he came in a strong third place. Their weapon of choice, you ask?…Gosch, Futaba 4PK FASST; Pavidis, Futaba 3PK; and Peterson, Futaba 4PK FASST.