Get Covered – Pro-Line's new FlexFit Hat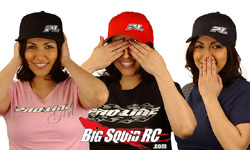 If your bald like me or just love protecting your dome then this is right up your lane. Pro-line Racing has released their new FlexFit Hats in Red, Black or Dark Navy that will cover your nugget comfortably and show off your true colors.
'09 Pro-Line embroidered logo front and rear and 100% FlexFit quality with sizes available in S/M 6 7/8"- 7 1/4" or L/XL 7 1/4"- 7 5/8".
Don't be the last one, I'm looking for mine now!