Get the best tech now with the new 350QX2 without Camera/Gimbal!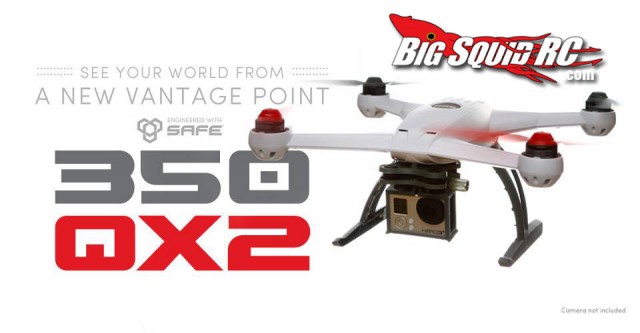 I'm sure I wasn't the only person a little jealous that the new Blade 350QX2 AP Combo came with new bells and whistles of better Receiver coverage, bigger battery, and more. Luckily for us the 350QX V2 gone, and now we have the 350QX2! Still featuring the same RTF and Bind-N-Fly packages, the 350QX2 touts these new enhancements:
White Battery Hatch (BLH7902)
White battery hatch compliments the primarily white design of the 350 QX2.
3,000 Mah LiPo Capacity Battery (EFLB30003S30)
Allows for longer flight times and helps to better account for the weight of an action camera.
New AC/DC Battery Balancing Charger (EFLC3016)
Charge your LiPo flight battery to perfection with this 3S compatible 3.5A charger.
New Full Range Receiver (BLH7801A)
Refined full range receiver improves connectivity.
With new enhancements, always comes a change in price. The new 350QX2 RTF (BLH8000) is priced at $499.99, and the BNF (BLH8080) will sell at $449.99. No need to wait though, the quads have already shipped and are on hobby store shelves now! For more information check out Blade Helicopter page Right Here.
For more Horizon Hobby news on BigSquidRC, Click Here.