GH Racing Bearing Tester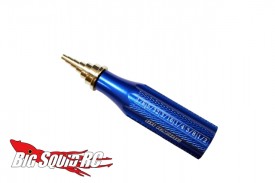 Good bearings can make a huge difference on any vehicle. GH Racing now offers a new Bearing Tester Tool to make sure your bearings are all in great working order. The tool has a knurled aluminum handle, and is capable of testing bearings in 1/8, 5/32, 3/16, 1/4, 3/8 & 1/2 sizes. This thing is perfect for testing bearings, measuring internal diameters, or even as a removal tool. Currently, you can have any color you wish as long as it's blue, and are willing to fork over a paltry $10.99.
Make sure you head over to GH Racing and pick something up. Make sure you tell 'em Big Squid sent ya!