GH Racing JigSaw beadlock crawler wheels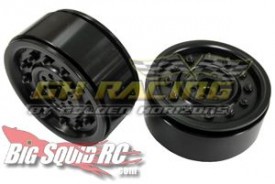 GH Racing has a set of awesome looking new beadlock wheels for 1.9″ class crawlers.  The JigSaws have a very hefty HMMWV style.  They're 3 piece wheels that have been machined out of aluminum and black anodized for a durable finish.
MSRP for the JigSaw wheels is going to be $49.99 for a pair.  They'll be available from the Golden Horizon web site soon.