GH Racing – Wraith Hop Up Review
GH Racing – Wraith Hop Up Review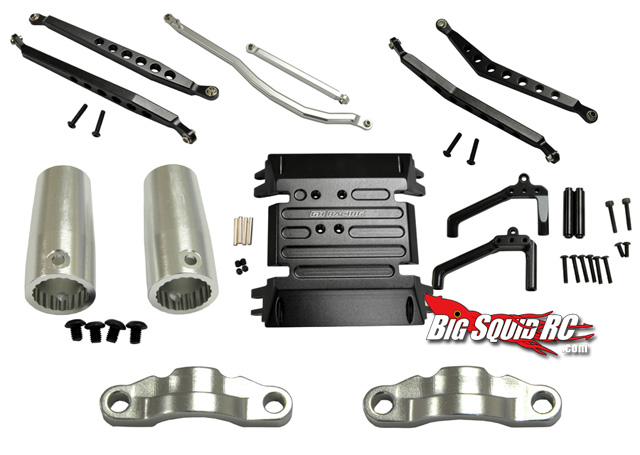 The Axial Wraith has been a very popular vehicle for crawlers and bashers alike. Whenever a vehicle gains that sort of popularity, the hop-up parts are not far behind. We recently got our hands on a handful of Wraith Hop-Up parts from GH Racing, got them installed, and have been beating on them for a while now. Let's see how they have stacked up…
From: GH Racing
Direct Link: Wraith Hop Ups
Parts- –
The parts we put to the test are the
Aluminum Skid Plate,
Steering Linkages,
Lower and Upper Suspension Links
and the Rear Lock Outs.
Total cost about $160
Some of these parts are more cosmetic than needed/functional, but they seemed like the parts most people would buy or be interested in.
Build Quality: The quality of all the parts was excellent. Nothing needed fixing or adjusting to make fit.
The Install: The install went very smooth. Wrench cranked out installing all the new parts in just over a hour, and we were up and running. There were no issues that we ran across.
Test Venues: Our Hidden Rock Racing area, park, parking lot, and even a little river testing.
Durability: The GH Racing parts have held up to our abuse with flying colors. Even after getting slammed into huge rocks, crushing through pebble areas, getting dirty and wet, all the parts have held up. Even cosmetically, they still look good, no major dings, scraps or scratches.
You can see from the pictures Wrench and I hit one of our favorite areas for some rock racing action. It has large rocks for crawling, water/river areas for getting wet, and all sorts of terrain to keep things interesting. We were pushing the new parts and the vehicles pretty hard. Wrench was brave enough to get out into the larger flowing river while I was yelling at him that he was going to be swimming after it as soon as the tires lifted off the ground.
Bling and Looks: The GH Racing parts all come in silver or black. We got a few of each just to see what they would look like. While the black looks good, from a short distance you can't tell if it's a stock or hop-up part because the stock parts were all black. So if you are looking for the bling factor, you should go for the silver. The silver skid plate looks awesome!
Misc Notes: There are several companies making Wraith hop-up parts at the moment. Most of them are all pretty similar until you get to the Suspension links. Some other companies only give you the middle part of the link requiring that you go purchase additional stock plastic parts from Axial to put on either end for the connectors. The GH Racing parts do NOT require these, and are aluminum all the way through. This is a HUGE plus, and a good reason to go with theirs if you are looking for some new links.
---
As with all of our stuff, if you see us at a bash, stop by and check out the vehicles we have with us. We may let you take a test drive, and at the very least get you some stickers!
SUMMARY
Time To Bash – 8/10 -The install was smooth and quick of all the parts.
Workability – 9.0/10 – The parts were easily installed, and to service.
Car Show Rating – 8/10 – If your looking for bling, go silver.
Bash-A-Bility – 10/10 – I don't believe you'll be damaging any of these parts any time soon.
Fun Factor – 8.0/10 – No need to worry about breakage, so you can get a little more wild at your bash spot.
Value- 8.0/10 – The prices are comparable, hop ups are never cheap, but can be worth the money.
Big Squid Rating – 8.5/10 – Tentacles.. Hop Ups help keep the hobby fun. Everyone like to ad a little bling and durability. If you are looking to replace your suspension links, the GH Racing ones are the ones to get!