Gmade R1 Rock Buggy Chassis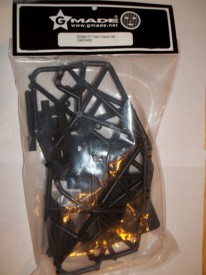 So another one of my christmas gifts was a Gmade R1 Rock Buggy chassis. It came all the way from South Korea and took about 25 days to get here! The chassis kit included a ton of extra nuts and bolts that were perfect if you were going to use it to build a custom truck. I went ahead and took out some HPI Wheely King axles, an Axial SCX10 trans, and some Traxxas electronics and built myself a rock racer. The chassis looks really tuff and can really take a hit, I've been beating on the truck for a couple of weeks and there aren't any signs of cracks or any possible breaking points. I really think that I'm going to have a very hard time killing this truck.
If your interested in getting a chassis like this one it's available at: HERE or at the Gmade website. And I'll be sure to keep you updated if anything breaks on the chassis.