GMS RC Drag Racing Wheelie Bar System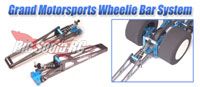 I just got a press release from Grand Motorsports about their new Wheelie Bar! Here is the press release:
Grand Motorsports Advanced Wheelie Bar System
Grand Motorsports announces the release of their new shock-loaded wheelie bar system. Designed to allow optimum weight transfer under acceleration, the new GMS wheelie bar system allows you to tune and control your launch by absorbing the energy of a wheelstand without unloading one (or both) rear tires. Grand Motorsports new wheelie bar system utilizes a standard Team Associated 1:18 scale shock, so many different spring and shock oil combinations are readily available. The graphite ladder-style bars pivot on dual high-grade ball bearings for smooth operation.
Available July 1, List Price $109.99, Will be available on the Grand Motorsports website for $79.