God Speed Mark, You Will Be Missed!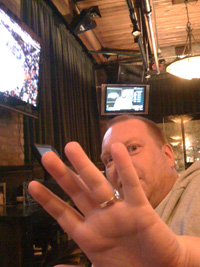 A very good friend of mine, Mark Loftus, passed away this morning. I had worked with Mark for over 9 years now, and can honestly say I haven't met a kinder person. He was an awesome co-worker, a true friend, great office mate, and a real family guy. My condolences and heart go out to his family and friends.
This is pretty much a standard Mark picture. Most of the ones I had here all had this same pose. LOL.
It is a huge loss for anyone that ever met him or knew him. I'll miss you man! Brian