Going Fast – 70 MPH ARRMA Raider BLX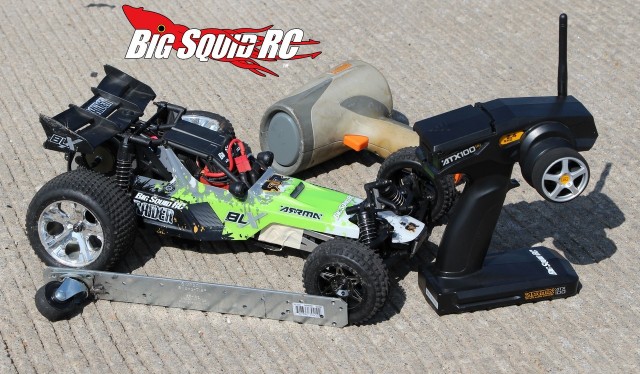 When we read that ARRMA RC was putting on a Beat The Speed Video Contest we decided to give our own ARRMA Raider BLX test buggy a go. We wanted to see if we could go fast enough to beat their speed.
The first thing we did was hand the Raider BLX to our resident high speed specialist, DWayne Buchannon from RC Custom Lab Workz. We only gave him two instructions- go faster than 67 mph and leave it as stock as possible.
The first thing DWayne did was add a wheelie bar. A stock Raider likes to wheelie when running big power, so DWayne grabbed a 12″ long piece of plate steel and attached a pivot wheel, creating a wheelie bar that would keep the buggy from flipping over. Next, DWayne had to trim some plastic in the battery box to make room for a slightly larger 3S LiPo battery pack. That was it for the custom mods.
DWayne didn't have to change out many parts either, he only changed two. DWayne added a larger 19 tooth pinion and installed larger diameter rear tires. Everything else on the buggy was 100% bone stock, including the shocks, radio and power system.
Once the buggy was prepped, it was time to try and "Beat that Speed". On the day we ran it was only 40 degrees outside which made it hard to find grip on the high powered ARRMA. We quickly learned to roll very softly into the throttle at lower speeds. Our first couple of passes were in the 60 mph range but we kept spinning out. We came back into the pits, recharged the battery pack, and changed tires to find a little more grip.
We found the buggy much easier to drive on the new tires and promptly busted out a solid 70 mph run, but we never got above 3/4 throttle, so we decided to run again for an even higher number. On the next pass we ended up losing traction and flying off the road, hitting a fire hydrant in the process and tearing off a wheel and the wheelie bar. Our day may have been over, but it had been successful. We had indeed "Beat The Speed", and it didn't take many mods from a bone stock Raider BLX to do so.
Check the video here:

70 MPH ARRMA Raider-
* 19 tooth pinion
* Traxxas 2.8″ Alias rear tires
* Custom wheelie bar
* Turnigy 3S 65C 5000mAh LiPo
Click Right Here for more ARRMA news on BigSquidRC.