Grim Racer Speed Packs from Aquacraft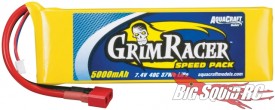 Want to step up the performance of your RC wave racer? Aquacraft gives you some new GrimRacer Speed lipos tested and approved by world champion Mike "Grimracer" Zaborowski to do just that. Featuring 10-gauge wire and Deans Ultra Plugs, these batteries are equipped to handle super-high current rates. They are available in 2S and 4S packs and range from $60-$150 depending on the mAh rating and should be available in early April.
These would be the perfect pack for the Motley Crew Brushless FE Catamaran I mentioned earlier. I bet they would make it To Fast For Love! Okay, that's my last Mötl3y Crü3 reference, I promise. Head on over to Aquacraft to check out these new lipos!