Hanging Out with Weird Al!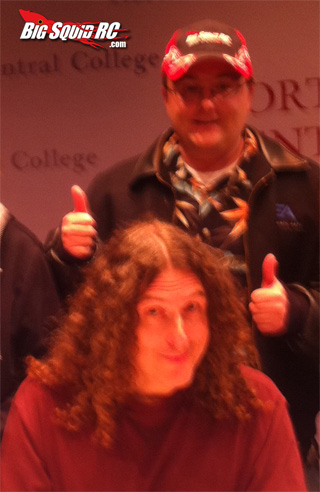 Of all the days to forget my camera, it's when I'm hanging out with Weird Al Yankovic! To make it worse, I had to hand my iphone to someone to take the picture, and they looked at it like I just handed them some sort of alien technology from Area 51 or something! So sadly this is the worst missed photo-op I have had in a while. *sigh*
Al was great. I have met him about 3 times before, and every time he's been extremely friendly, patient with fans, and just seems like a genuinely good guy. He does not read BSRC every day, but I understand, he's on the road a lot and it's tough to surf your favorite sites on what little spare time he has.
If you are unfamiliar with one of the greatest song writers to walk the face of the earth, check out his website and go buy some albums, videos and books!
Thanks Al! Sorry for the bad picture, next time Dinner is on me!