Happy April Fools' Day!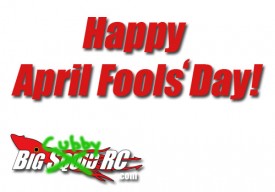 Hey everybody, Happy April Fool's Day! Apparently not everyone celebrates this day the way we do, because man did we get the emails! We have been doing a April Fools' day day for many years now, and every year we get a few people off guard, but this year was special.
Maybe because we have just grown so much bigger and it's the same percent of people, I'm not sure, but the mail box was flooded today! From fans, readers, and companies! Sorry to bust all our competitions' bubbles, but we were NOT bought out, and we are NOT going anywhere! It would take serious yacht money for us to loose this baby with the growth we have been having. (B. Gates.. call us!) But until then, your stuck with myself and the rest of the Big Squid RC crew bringing you your daily awesome RC news and reviews!
For all of this years foolery click here.
We now return you to your regularly scheduled rc news!