Hardcore for RC – Spektrum Tattoo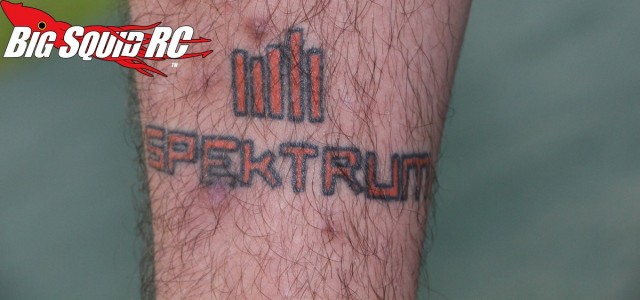 I know a whole lot of guys that are hardcore for rc, but I think Eric Callaway has taken it to another level. While at the ShowMe R/C track last weekend I met Eric and found out he is really into Spektrum radio gear. He uses their transmitters, receivers, and servos, pretty much everything they make. In fact, he likes their gear so much he decided to get a full blown Spektrum Tattoo on his forearm to permanently show the world.
Eric isn't sponsored by Spektrum, it wasn't done on a dare nor did someone else pay for it, he got it because he really likes their gear. We have to applaud anyone so hardcore for the hobby and I would be surprised if the Horizon/Spektrum crew doesn't get a hold of Eric to give him a hook-up after seeing his tat.
Are you so hardcore you've also gotten an rc related tattoo? If so, shoot us an email right HERE.
Want more to read more Spektrum news here on BigSquidRC? Check out THIS LINK.