HB Ve8 Unboxing Pictures!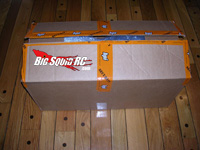 What seems like one of the most anticipated buggy releases in a long time, the Hot Bodies Ve8 buggy has arrived for it's unboxing ceremony!
Here are some of the first photo's of what you can look forward to when yours arrives!
Wow, a true kit! Haven't seen one of these in a long time! It doesn't even come with tires! First reaction, the chassis is good and stiff. No flexing this with your bare hands. We were not really expecting that, but glad to see it. It's going to take a few days to build up, and I'll make sure to post photos as we go.
Make sure to visit Hot Bodies Online for details or where to get yours!