Heli-Max 1SQ Quadcopter Review
If you haven't noticed, Quadcopters are the 'in' thing right now. Everyone seems to be coming out with one, and price isn't always the best way to make a buying decision. The new Heli-Max 1SQ was one of the first to the market in this new craze, keep reading to see if we think this is 'the one', or if you should look at other options…
From: Heli-Max
Direct Link: 1SQ Quadcopter
Specs-
Kit or RTF : The 1SQ is available as a Ready to Fly or as a TX-R (Transmitter Ready). Our review is of the TX-R.
Length: 5.7 in (145 mm) Including Blades
Width: 5.7 in (145 mm) Including Blades
Height: 1.37 in (35 mm)
Weight with Battery: 1.1 oz (31.2 g)
Battery: 3.7 250mah Lipo Included
Charger: USB Charger included
Pictures by: Tiffany
Build Quality: Out of the box, build quality was top notch. No issues, nothing needed to be tweaked or fixed
Test Drivers: Brian, Wrench (Bill), 3DBill, Adam the Intern
Test Venues: Office, Indoors at Hobby Town USA – Orland Park, IL, Indoors at Leisure Hours Raceway, outside.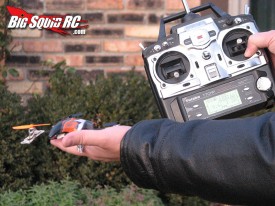 Set-up Notes:Our test unit was the Transmitter Ready version, meaning we had to supply a Transmitter. We thought this would be a little easier than it actually was. We had several 'flying' transmitters around the office but most of them would not cooperate. There is a decent list of transmitters that DO work with it, but make sure yours is on the list. Or just pay the extra $20 and get the RTF version that comes with a transmitter.
We eventually got ours working with our Futaba 7C. Check the manual online for the full detailed list, but they do support some Futaba, Hitec, JR, Spektrum and Graupner.
Stability: The 1SQ is the most stable Quadcopter we have ever flown. And we aren't just saying that, it is noticeably better than the Ares Ethos, the Traxxas QR-1 and even our larger scale quads. It's truly impressive to fly and see it just sit there in mid air. It could be the TAGS-Triple Axis Gyro Stabilization or just good engineering, but the feeling of stability you get when flying it is incredible.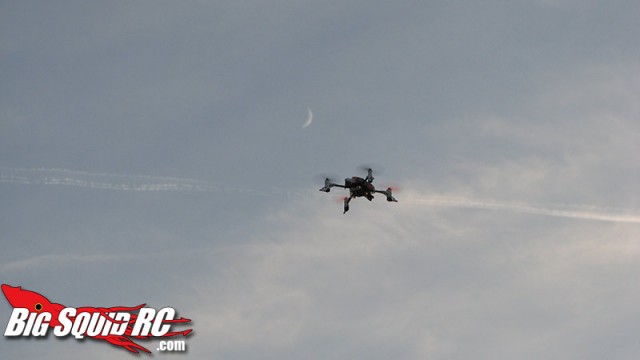 Flying: The 1SQ was a dream to fly. Even at extremely low heights where you would expect a lot of back wash from the ground, it's perfectly smooth. The video will show us doing some crazy stuff with it, and we had a blast doing it.
The quad rotates like it's nailed in place. There is no drifting or sinking, it just turns, and is something that needs to be experienced.
The manual mentions that it can be flown outside in a light breeze. As most of you are aware, we are near Chicago, there is never just a 'light breeze'. We took the quad outside and were in awe of how well we could fly it around. The powerful motors had no problem fighting any wind, and we have been zipping around yards and parks with ease.
Radio: While we didn't do most of our testing with the stock radio, the stock radio is more than adequate for the quad. It's easy to make adjustments in sensitivity, and does the job.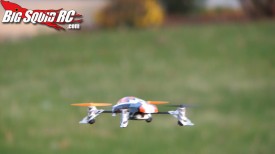 Durability: The 1SQ has proven itself as as more than durable. We have NOT broken a single part yet, though the body may need replacing in the near future. The little tabs that hold the body on have taken some abuse due to us trying to do crazy stuff and crashing or slamming into things.
Misc Notes: It's slightly bigger than a few of the other new to market quads, but not by much. It's still small enough to toss in a box and take somewhere with you so you can enjoy it just about anywhere.
We have seen someone else's 1SQ need a slight motor adjustment, where after they would crash it hard, you need to push down on the arms to push the motor back up. We have never had this problem with our version, but we are tossing it out there in case someone runs into this after a few hard landings. It was a easy, quick and simple fix.
Best Mod Under $5:
Add some color, or stickers to the bottom. While the orange/black is easy to see when flying around at or below eye level, getting up in the sky makes it a little more difficult to tell what way you are facing.
Best Mod Over $20: Do yourself a favor and get the RTF version unless you are one of these uber pilots that already has a good radio to use.
Video coming soon!
---
As with all of our stuff, if you see us at a bash, stop by and check out the vehicles we have with us. We may let you take a test drive, and at the very least get you some stickers!
SUMMARY
Time To Bash – 8.0/10 – The USB charger isn't the fastest, and it took a little time to set up with our own transmitter.
Workability – 9.0/10 – Not a whole lot to fix here, but if something does break, it shouldn't be difficult to fix.
Car Show Rating – 8.5/10 – The paint and body look good. We like the matching paint to props to help keep it in line.
Bash-A-Bility – 10/10 – We got pretty crazy with it. Flew it into all sorts of stuff and we still have not broken a single thing.
Fun Factor – 9.0/10 – The stability helps bring the fun factor up. You can try stuff that normally you would be afraid to do because you know it will be easy to recover if you get into trouble.
Handling – 9.5/10 – We really feel the 1SQ is as stable as they come in the air. Overall flying was very enjoyable, and we found ourselves getting into tight places just for fun.
Value- 9.0/10 – $79 for the TR-R version or $99 for the RTF version put it at a great price point.
Big Squid Rating – 9/10 – Tentacles.. Overall we feel that the Heli-Max 1SQ is currently the best flying ($100 range) Quadcopter on the market. If you are looking for something small to fly indoors or out, and rock solid in the air, this is the one.