Heli-Max Axe 100 SSL Brushless Helicopter Review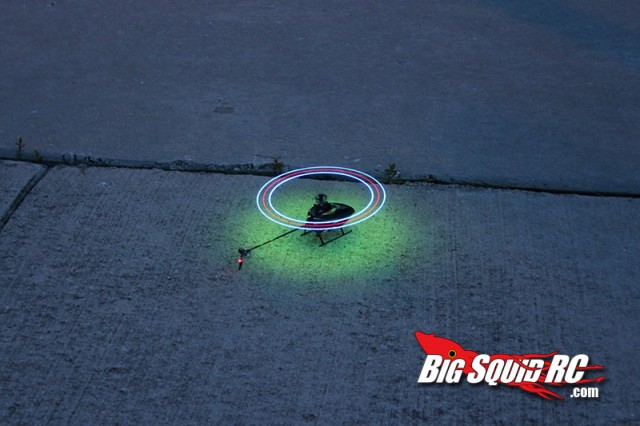 When we saw the original press release for the Heli-Max Axe 100 SSL, we were sort of blown away by what they were claiming, and what you could get for the price. When it comes to heli's, we haven't really done much in the way of reviews except for some 'dual blade' stuff, but the specs on the Axe 100 SSL really made us take notice. Would it be as cool as it sounds? Can it really do decent 3D flying for that price? Keep reading to find out..
From: Heli-Max RC
Direct Link: AXE 100 SSL
Review By: Brian and 'Heli' Nick
Pics By: Brian
Specs:
RTF or Kit: TX-R (Built and Transmitter Ready)
Rotor Diameter: 9.5″ (242mm)
Overall Length: 12.3″ (312mm)
Weight: 1.69oz (47.8g) without battery
2.12oz (60.1g) RTF weight
Blade Length: 4.13″ (105mm)
Tail Rotor Diameter: 1.5″ (38mm)
Height: 3.18″ (81mm)
Width: 2.04″ (52mm)
Gear Ratio: 8:1
Battery: Heli-Max 3.7V 400mAh LiPo battery
Part Number: HMXE0828
Street Price: $159 (RTF version with Transmitter is $219)
Primary Competition: Other Micro Heli's like the Blade Nano CP, mCP X BL, Thunder Tiger Titan.
What's Needed To Complete: Since we opted for the TX-R version, you need a transmitter that can use the Tactic AnyLink SLT 2.4GHz Radio Adapter (Futaba, Spektrum and JR all have compatible transmitters), or a Tactic 2.4GHz 4 or 6 channel transmitter. You can skip all that and just purchase the RTF for a little more money.
Build Quality: Out of the box the build quality was very good. No broken parts, nothing bent or out of shape.
Test Flyers: Brian and Heli Nick. We tag-teamed this one. Nick has way more experience in the Heli department, but we still wanted to keep the 'basher' point of view, so while I was testing durability, Nick was testing the 3D action.
Test Venues: Yards, fields, neighborhood cul-de-sac.
Set-up Notes: We used our Tactic TTX650 6Ch 2.4ghz Transmitter, so we didn't need to use an AnyLink adapter. The manual had the recommended settings for the Tactic radio as well as several other radios. I did my best to get it set up correctly, but not being a experienced 'heli' guy there were a few things I just didn't understand, and that's when we brought in Nick. So while the manual was great for someone with some experience, a newbie would struggle a little with the TX-R version.
(Heli Nick) The linkages were nicely 90 degrees at zero degrees pitch which made the setup very smooth with no need to adjust linkages to level swash. Props to Heli-max! Experience in higher end transmitter setup definitely was a plus for this Tactic transmitter. The beginner may scratch their head a tad while looking at the setup so you may seek an experienced pilots help on this one. Once set up, it seems their base settings should work pretty well. I did like the timer option on the Tactic transmitter which allowed for the timer to be activated by throttle use! No need to use another switch and forget to turn it on!
Power: Plenty. The brushless motor really had the heli zipping around the yard and fields with little trouble. We flew it pretty hard and had no problems with heat or a lack of power when needed. We also had enough power to fight some slight wind.
Flying: (Nick) Spool up seemed quite smooth and soft enough to not jerk the heli like some brands of speed controls! I did tighten up the blade bolts to eliminate a hair of slop the blades had which also helps spool up and any vibrations in flight. Keeping the gyro gain menu up in the transmitter in case of needed gain change, the heli took hover. Gain was spot on! Always nice to see. Tail held well and little to no tail wag, even in slight wind! Felt out the cyclic and collective inputs and I must say it was definitely not overly responsive or hard to manage! Lets idle it up! Flipped the idle up switch and rpm jumped a bit but the heli held its level hover without any change in pitch. I then flipped to high rates. The 20 percent expo seemed perfect for this heli and even at 100 percent rates, it seemed very smooth to fly and very forgiving even with aggressive cyclic inputs. Forward flight seemed to track well with no bad tendencies. The 3 axis gyro worked well right out of the box. Time to flip it over. Oops sorry Brian… The heli didn't flip to well in with low rates back on. After meeting the ground with some serious force, I was shocked to see not a thing was broken or bent! Another plus for the beginner! A heli that can hit the ground and not break!!! It did unplug and eject the battery.
Ok test #2… Much better in high rates lol. Flipped over much better and took a sec to feel out the collective transition from positive to negative and smoothen it out, but once I did it was very solid! Even mowed the grass a little bit. Flips out back to right side up with pirouettes were done with ease. Tail was very predictable and held throughout maneuvers. Very good performance for the price!
Durability: Did I mention I flew first? Yea.. so I thought I had everything set up correctly, and tried to make a few 'test flights'. Something just wasn't right and I hit the ground HARD about 5 times. Then I flew directly into a wooden fence (blades first). We have to test durability right? Needless to say, it's still alive and flying! Seriously, we had some really bad crashes and the Axe 100 kept bouncing back.
Broken Parts: The direct flight into the fence at a high speed ended up cracking the Tail Boom right before the motor. To our surprise, the entire tail boom (with motor, and led) was only $9! It was a pretty quick and simple fix as well.
Misc Notes:
The flying during the day was impressive, but at dusk, WOW! The light show this thing put on had all the neighbors coming out of their houses. Hovering low and getting the glow effect in different colors on the ground than on top was awesome, The bling factor shot up a TON at night. Mental note, tree branches are still hard to see!
(Nick) Great heli for the price and performs very well! Besides the battery being loose, can't point out any real cons of this heli. The led's worked great. The durability will definitely make this heli stand out and the cheap price on the parts will make this heli sell! Would like to see more than one lipo included and maybe a standard set of blades.
Best Mod Under $5: A tiny piece of Velcro attached to the front of the battery, and the inside of the battery holder. It was just a little loose, but enough to where the battery would slide back enough to throw off the balance when doing some more extreme moves.
Summary:
A = Outstanding/Best in Class, B = Above Average, C = Average, D = Below Average, F = Horrific
Time To Bash: C , The set up with the Tactic and the TX-R version of the AXE 100 took a good amount of time to get things dialed in properly.
Workability: B , Everything is pretty easy to get to if you need to work on something. There were a good amount of cable tie offs to keep things nice and neat, and we had little trouble replacing our tail boom and wiring.
Car Show Rating: A , The bling factor with the LED's was awesome. If you are looking to turn some heads, this little heli can do it.
Bash-A-Bility: B , We hit the ground hard more than a few times and survived to fly again.
Fun Factor: B , A heli this size doing 3D is always fun! While a basher isn't going to be flying inverted any time soon, they ability to do so is there. You are going to need some skills to take full advantage of it though.
Handling: B , From both a basher and an experienced pilot's view, the AXE 100 SSL handled very well.
Value: B , At $159 for TX-R version with LED lights, brushless motor, and the ability to do some cool 3D, the AXE 100 SSL is a very good value.
Parts Availability: B , Replacement parts are easily available online, and because some of the parts are compatible with AXE 100 CP, we were pleasantly surprised there were some basic parts at our local hobby shop in stock!
BigSquid Rating: B ,. It looks awesome in the evenings, took a decent beating, can keep an experienced pilot happy and having fun while allowing a long road ahead for a newbie to learn the ropes before he needs something else.