Helion Dominus 10SC 4wd Short Course Truck Review
THE Helion Dominus 10SC 4wd Short Course RTR Truck Review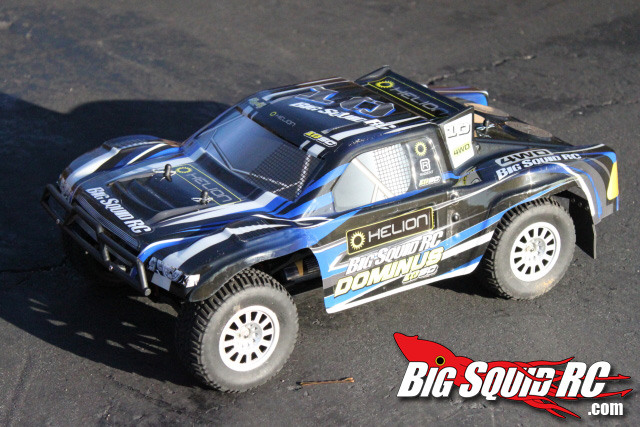 Everybody loves short course trucks- they look b!tch'n, they can usually handle a beating, and they are a blast to drive. But… if you walk in a hobby shop with only $200 cash in your pocket you can't even walk out with a 2wd SCT, let alone 4wd. Well hello there Helion! Helion's second offering to the market is their Dominus 10SC, a 4wd short course truck, oh and ya, it sells for $199. Is it worth your cash? Let's find out!

From: Helion RC
Direct Link/Where to Buy: Dominus 10SC
Review By: Cubby
Pics By: Cubby
Specs:
RTR or Kit: RTR
Age: 14+
2wd or 4wd: 4wd
Electric or Gas: Electric
Scale: 1/10th
Length: 21.26″
Height: 8.46″
Width: 11.42″
Wheelbase: 13″
Weight (measured by BSRC): 6 lbs.
Motor: 550 size, Brushed, 21 Turns
Speed Controller: Helion, brushed, waterproof
Radio: Helion HRS-3 2.4 GHz
Differential: Metal gear diffs front and rear
Slipper Clutch: No
Driveshafts: Metal
Shocks: Oil filled, plastic bodies
Screws: Phillips
Bearings: Yes
Spur/Pinion Pitch: 32 Pitch
Tires: Helion, scale tread
Waterproof: Yes on the speedo
Battery: 1800 mah 7 cell Ni-Mh
Warranty: 90 days limited
Street Price: $199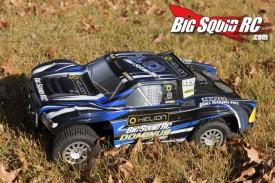 Primary Competition: Losi Ten SCTE, Associated SC10 4×4, Traxxas Slash 4×4, Ofna SCRT-10
What's In The Box: Everything you need except AA's for the transmitter.
Build Quality: Not high-end, but not bad either. I didn't come across any stripped screws, I didn't see any excessive flash, the shocks were filled with oil and weren't leaking, heck even the pinion/spur mesh was set properly.
Test Drivers: Cubby, Brian, Tim, Iron Mike
Test Venues: Jake's Race Place in Fairmont City Illinois, Dirtburners in St Louis Missouri, Leisure Hours in Joliet Illinois, a Costco parking lot and my backyard.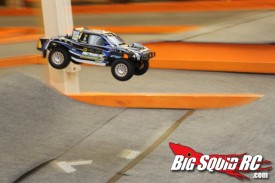 Set-up Notes: We tested the Dominus bone stock, I even used the stock battery and it's cheap connector on this one.
Turning: The Dominus turns very well. On high bite carpet it went exactly where pointed, and on low grip dusty pavement it still turned well. The only exception to its excellent turning habits was when you hit the brakes hard before entering a corner, in that case the Dominus tended to push. Also, being a 4wd, it doesn't have a very tight turning radius, but if you practice your technique you can carve good lines with it. Neither the stock tires nor the trucks geometry lend to a ton of mechanical grip, so you won't be breaking any track records with it bone stock, but the truck certainly has potential in the corners.
Jumping: 4wd and no center diff typically leads to a truck that is touchy in the air, and that's a pretty good description of the Dominus. Tapping the brakes immediately brings down the nose with authority, but because of the low rpm of the stock power system bringing the nose up isn't easy. The Dominus has a low center of gravity, so you can get away with landing a bit sideways off jumps.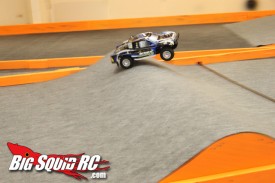 Bumps/Whoops: The Dominus wasn't great through the chop, but it wasn't bad either. It's a bit underdamped, but for general use it performs much better than you'd expect. While it might be bottoming out hard through the whoops it tends to keep pointed straight, a good attribute to have when the going gets rough.
On-Road: We experienced no traction rolling on pavement and the excellent turning attributes of the Dominus really shined on-road. No, the truck was not designed for on-road use, but if you chose to drive on pavement the Dominus works well.
Tires: I dig the scale appearance of the stock tires and I also like how they squeal on pavement like full size tires do. While not an uber soft compound they got decent traction on all surfaces (from carpet, to pavement, to the shingles on my roof) and they'll last a long time (probably forever if you stick with the stock power system). The included inserts are a medium soft foam that works ok in most conditions. As far as rims go, the Dominus uses the same size hex as the Traxxas Slash, but Slash rims (front or rear) will make the Dominus wider than stock, and Losi rims (either SCTE or XXX-SCT) will make the truck more narrow.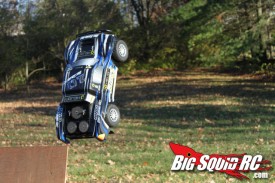 Power: The Dominus has enough low end yank from a dead stop to spin all four tires on pavement and as well as dirt. But… it's obvious the stock power system is set-up for first time drivers. While the low end has some yank the mid-range power is soft and the top end signs off really early. Yes, the power system is easy to drive for noobs, but it's pretty soft for experienced drivers. Our radar gun was acting up during testing, but I'd speculate the top speed being around 18-20 mph. On track the soft power made the Dominus very easy to drive but I couldn't make a set of doubles that I was easily making with our bone stock (both were stock brushed powered) ECX Torment and Losi XXX-SCT.
Radio: The Dominus comes with a much better radio than other Helion products. The HRS-3 transmitter that comes stock with the Dominus was a nice upgrade over the radio that comes stock with the Animus and Animus 18TR. The wheel on the HRS-3 is covered with a hard (almost memory type) foam that I liked, the trigger fit my finger very well and the grip was comfortable. It doesn't look fancy, but looks much better than other RTR radios on the market. For range I drove our Dominus as far as I was willing to walk to retrieve it and I had no glitching or runaway issues, its range was very good. Also of note- the stock receiver is TINY, very nice. Lastly, the transmitter audibly beeps when you turn it on or when you make adjustments (which is awesome for screwing with people while on the drivers stand).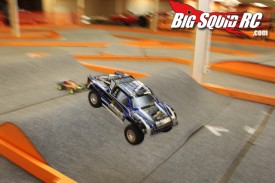 Broken Parts: We didn't perform a "worst ever" beating on the Dominus, but we certainly thrashed it like we stole it. First up on the agenda was running it full speed into the 2″ x 6″ track barriers at Jake's Race Place rc track. These barriers have very little "give" and we slammed them full speed repeatedly. The end result? Zero broken parts, however we did bend the top plate and bent the nose of the chassis up slightly. Next up was to jump the Dominus off the back deck of a house from a height of about 14 feet off the ground. We jumped it off the deck a half dozen times with no broken parts or other issues. Ok, so I really wanted to destroy the Dominus so that's when we started hucking it off the roof from a height of just over 20 feet. A half dozen jumps later the Dominus still had not broken. We broke absolutely zero parts during the course of our testing, kudos to the Helion guys.
Best Mod Under $5: Traxxas connectors!
Best Mod Over $5: This is an easy one as well, a brushless/Lipo power system upgrade. Whether it be from Speed Passion, Castle, Novak or whoever, a brushless system running off a Lipo pack will dramatically improve the fun factor of the Dominus.
---
As with all of our stuff, if you see us at a bash, stop by and check out the vehicles we have with us. We may let you take a test drive, and at the very least get you some stickers!
SUMMARY
Time To Bash – 6.0/10 -Included wall charger takes 4-5 hours, that's a long time to hit the playing field.
Workability – 8.0/10 -I am not feeling the love for the Phillips head screws, but the Dominus is well laid out and very simple to work on.
Car Show Rating – 9/10 – The guys around the office really liked the looks of the Dominus body- it looks scale, has some flair to it, and the graphics are crisp and clean. Overall a hot looking body.
Bash-A-Bility – 10/10 – I wanted to ship this truck back to Helion in a hundred small pieces but the Dominus took its torture test in stride, we didn't (read- couldn't) break one part.

Fun Factor – 7.0/10 – On one hand the Dominus turns very well and is loads of fun jumping off the roof, on the other hand we'd like to see more power on tap.
Handling – 8.0/10 – The Dominus features crisp turning and air manners that inspired confidence in the hands of the driver.
Power- 6.0/10 – If you are a noob you'll love the power, if you are an experienced hobbyist you'll be dropping in brushless and Lipo ASAP.
Value- 9.0/10 – The Dominus features a low price point yet performs as well as others in its class that cost a lot more.
Big Squid Rating – 7.8/10 – Tentacles.. If you are a noob looking for your first truck the Dominus is a great truck that will help you learn at an affordable price. If you are an experienced hobbyist wanting to toss your own electronics into a solid platform the Dominus is a great buy.