HELP WANTED – Apply Within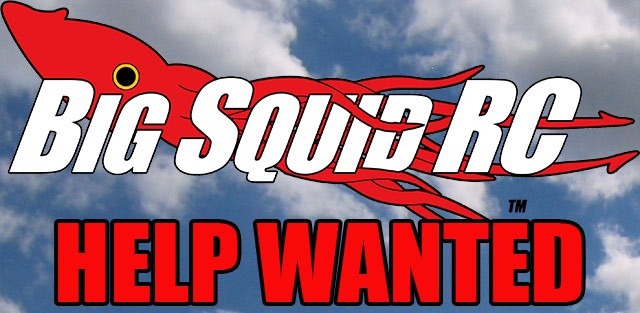 While I'm working on an actual position openings page, I thought I'd post something here while I'm thinking up 'official job descriptions'. Some of these are going to be intern style where you are mostly doing it for fame, but a few will be actual paying gigs in some form or another. Ask Wrench.. we pay him in Candy and Nitro Fuel!
Some of the positions will require experience and excellence, while others just need a passion for RC and Big Squid.
*remember these aren't the official job descriptions.. but you get the idea.
Web/Internet/Wordpress Guru – We have a LOT going on behind the scenes and need someone with some 1337 web skillz to keep things running smoothly as well as future changes. (Photoshop talent a plus)
Video Editor/Producer – There is an insane catalog of footage piling up on our floors. We need someone to not only create and edit new vids, but start going through our older stuff as well. (Adobe Premiere please) If you are local and want to shoot video as well, we could use that also.
Social Media Activist – Big Squid RC has so many other pages like Google+, Tumblr, Facebook, YouTube, (and a few others I have lost track of) along with our post comments, we just can't keep track of them all! If you LIVE on social media, and have the skills and knowledge to keep us on top of things, hit us up. (No TROLLS, we need troll slayers)
Editor/Writer – Are you heavy into a particular RC scene? Know what's hot? Do you attend a lot of events? Scale? Flying? Maybe boats are your thing? Are you all about large scale, or drifting? We do it all, but we are looking for dedicated guys to help cover areas a little more in depth and hit some events we can't get to. (Racing scene need not apply LOL) This is open to anyone in the world. Good English a must. 🙂
Air-Brush/Painter/Hydro-dip artist – Chicago (burbs) Area. We need someone we can hand off a body to, and either give them a description, or say 'Wow Me' and leave it at that. Must be TOP Shelf stuff.
There are a few more openings, but this is a good start. I'm sure Cubby will send me an email as soon as this goes up reminding me of ones I have missed. Maybe you know of one we missed? Have a desire to wear a Big Squid Shirt and a talent you think we need? Drop me a line…
If your local to the Chicago area (western burbs) for most of these, that's also a big plus. I'll leave it up to you on how to contact us.. that will be your first test. Good luck, and we look forward to hearing from you!
PS: If you are going to drop us a line, give us some details, descriptions, examples..
Oh yea.. it's Friday, that means Mystery Link old school.