HiDef Video Test: HPI Baja 5B Barrel Roll!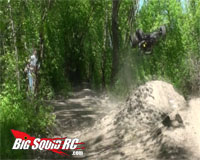 Pro Driver, Tim Mohr, and I were out one morning testing the new HPI Baja 5B. We were also testing out the new HD Camera. The footage isn't at full HD Def, or it would be too big to download, but I think it's pretty good. You'll need a codec (or quicktime) to play it. To help save on bandwidth, please right click, and do SAVE AS.
I will be posting up some HD RC Drag Racing videos soon also! If you can't wait, there are a few in the forum.