Hitec Booth, 2014 HobbyTown USA Convention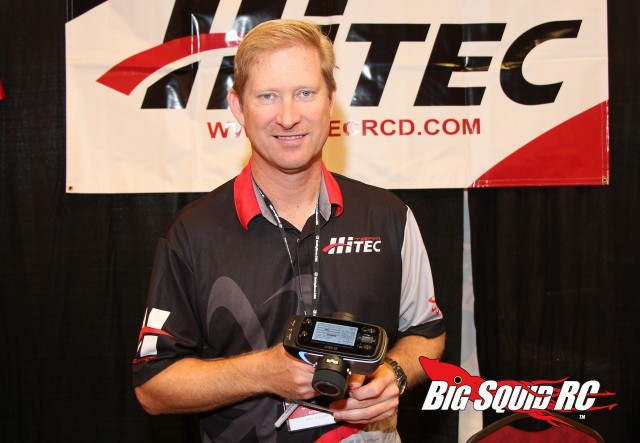 The big news in the Hitec booth was their new Lynx 4S. This is the first surface transmitter Hitec has put out in quite some time, and this was the first chance we've been able to lay our hands on it. The ergonomics on the 4S were very nice, it had a nice weight distribution, high quality foam on the wheel, and the trigger/wheel/grip relationship felt quite natural. The trigger also felt like it had a light rubber coating, making it non-slip on the finger. The 4S is also loaded with all sorts of high-tech goodness on the inside like car/boat/crawler mixing, PC link support, and bi-directional telemetry for speed, rpm, temp, and voltage. As far as availability goes, the Lynx 4S is still a ways out, we were told it should start hitting hobby shops around November.
Also new from Hitec was their X1 Pro charger and power supply. The press release photos did not show just how small the X1 Pro is, seeing it in person we were impressed with how little space it will take up on your pit table or tailgate. While it might be small in size, it can charge batteries at up to 16 amps, which is more power than most chargers on the market.
We had a great time talking with the Hitec crew and learned a lot from them, to take a look at all their products simply Click Here to visit their official website.
Click Here to view more show coverage from the 2014 HobbyTown USA Convention.