Hitec HS-7965MG Servo Review
THE Hitec HS-7965MG Coreless Premium Digital Servo Review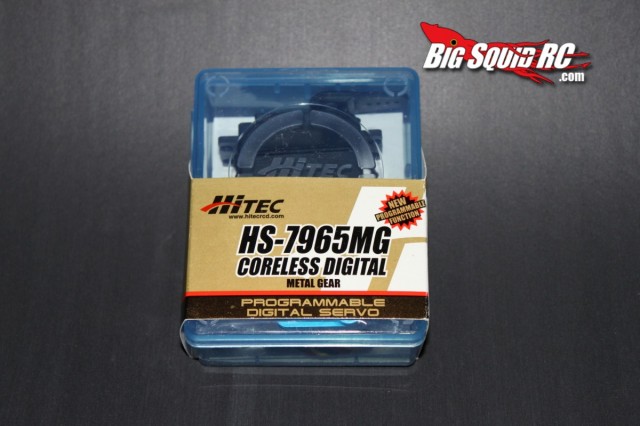 Yes, Hitec is a sponsor here on BigSquid, but long before they were I was already a huge Hitec fan. I've used Hitec servo's for over a decade and their performance and durability have made me into the fan I am today. Now days, we get a lot of servo's through our doors here, and the Hitec ones seem to consistently deliver. With that said let's take a closer look at one of Hitec's better digital servo's, their HS-7965MG.
From: Hitec
Direct Link: Hitec 7965MG
Specs- –
Torque- 111 oz-in at 4.8 volts, 139 oz-in at 6 volts
Speed- .13 at 4.8 volts, .10 at 6 volts
Coreless Motor
3 Metal Gears, 1 Metal Karbonite Gear
Digital Control
Programmable
Water Resistant
Dual Ball Bearings
Plastic Case
Size- 39.9 mm x 19.8 mm x 36.8 mm
Street Price- $95
Set-up Notes– We installed the 7965 in our Axial EXO Terra buggy, a 4wd 10th scale off road scale buggy.
Overall Thoughts–
Power– There are far more powerful servo's on the market, but we found the 7965 to have more than enough power for the Axial EXO. Whether it be high speed corners, jump faces, or ruts, the Hitec had enough power to keep the EXO's tires pointed exactly where we wanted them. In larger vehicles like an 8th scale truggy or monster truck you'll probably want more crank, but for 10th scale vehicles the 7965 has plenty of power in most applications.
Speed– Is the 7965 the worlds fastest servo? No, but it's fast enough for quick avoidance maneuvers, yet not so fast as to be twitchy, it's right in the sweet spot that feels quite natural while driving.
Arc– Looking for a servo that gives a smooth sweeping movement all the way from one side to another? The 7965 does a nice job, delivering a nice smooth sweep across its entire travel.
Centering– Hitec digital servo's have a good rep for their centering ability and the 7965 is no exception. Lap after lap, pass after pass, the Hitec quickly and accurately returns to center helping your car/truck/buggy drive in a straight line.
Durability– The Axial EXO buggy is renowned for its handling, however it's also renowned for its stock servo saver not working very well, thus putting a lot of stress on any servo. We hucked our EXO off the roof, bounced it off curbs, slammed into pipes at the track, and played demo derby, all with the Hitec coming out no worse for wear. This was a tough achievement considering the 7965 was essentially being used with a servo saver that offered very little protection.
---
As with all of our stuff, if you see us at a bash, stop by and check out the vehicles we have with us. We may let you take a test drive, and at the very least get you some stickers!
SUMMARY
Time To Bash – 10/10 – Installs just like any normal servo, bolt it in, plug it up then rock and roll.
Workability – 10/10 – The Hitec is just as easy to crack open and work on as pretty much every other servo on the market, but it has the advantage that many hobby shops stock replacement gears for the Hitec line-up
Car Show Rating – 7/10 – The 7965 comes with a standard black plastic case with no fancy aluminum heat-sink.
Bash-A-Bility – 10/10 – Rock solid, it still works perfectly even after weeks of abuse.
Value- 8.0/10 – Many high end digital servos cost well over a hundred bucks, the 7965 comes in under a c-note and offers outstanding performance.
Big Squid Rating – 9/10 – Tentacles.. The HS-7965MG is yet another great servo from Hitec, I highly recommend it for applications that require modest torque with good speed.