Hitec HS-7985MG Digital Metal Gear Servo Review
THE Hitec HS-7985MG Digital High Torque Metal Gear Coreless Servo Review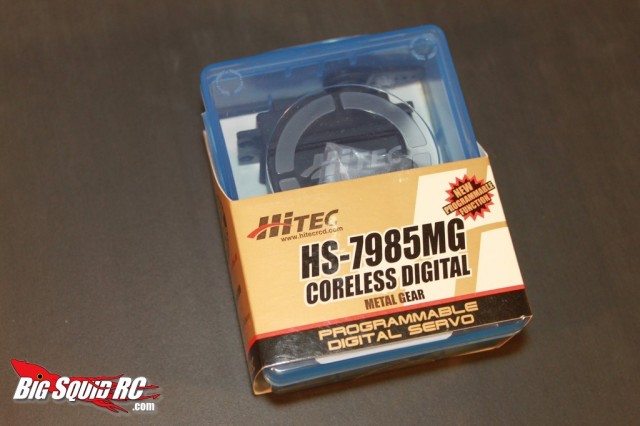 Has the servo in your ready to run truck stopped working? Have you advanced your driving skills to the point where you'd like to try a high quality servo? There are a lot of people in those boats right now. Hitec is one of the elite manufactures of servos for us hobbyists, today we'll be taking a closer look at one of their premium servos, the HS-7985MG. Can you tell a big difference between it and a typical RTR servo? Is it worth the cash? Read on…

From: Hitec
Direct Link: Hitec HS-7985MG
---
The Specs:
Torque- 144 oz-in at 4.8 volts, 172 oz-in at 6 volts
Speed- .16 at 4.8 volts, .13 at 6 volts
Coreless Motor
Karbonite Gear Train
Digital Control
Programmable
Dual Ball Bearings
Plastic Case
Size- 39.9 mm x 19.8 mm x 36.8 mm
Weight- 2.18 oz
Street Price- $85
---
Test Drivers- Cubby, Brian, Tim, Iron Mike
Set-up Notes- We installed the 7985MG in our review MIP Pro4mance Losi Ten SCTE 4wd short course truck and Hot Bodies VE8 8th scale buggy.
---
Overall Thoughts-
Power- There wasn't a time when the 7985MG lacked for torque during our review process. The Hitec tossed around the front tires on both our SCTE and VE8 with authority, even at high speeds. You might look for more torque if you are a monster truck or truggy driver, but for everything else the 7985MG has loads of power. Compared to a typical RTR servo the Hitec packs a lot more punch. Even in light applications most RTR servo's lack power, that is definitely not a problem when using the Hitec.
Speed- One of our testers likes blazing fast servos (like .08 or faster) and for his taste the 7985 was too slow. However, for the rest of the crew the Hitec was plenty fast. It's easy to notice lag in a typical RTR servo, the Hitec simply felt natural in speed to the majority of our testers.
Arc- Hitec has a great rep for smooth sweeps from arc to arc. The 7985MG was no different, buttery smooth.
Centering- It's amazing how many servos on the market don't center well, thankfully the 7985MG isn't one of them. When you come out of corner and peg it down the straight the 7985 goes exactly back to center every time.
Durability- While the servo saver on our MIP SCTE worked well, the one in our VE8 wasn't working at all, thus meaning the 7985MG took a severe beating when being driven in the 8th scale buggy. We've jumped, slammed, and bashed the heck out of the 7985 and it is still in perfect working order. Kudos to Hitec for building servos that can take a beating.
---
Summary-
Time To Bash- 10/10 – The 7985 is an easy install in any normal sized servo mount.
Workability- 10/10 – The 7985MG is set up like most servos, gears are easy to access.
Car Show Rating- 7/10 – The 7985MG isn't a bling servo, just standard black.
Bash-A-Bility- 10/10 – After weeks of abuse (on an 8th scale buggy with no working servo saver) the 7985MG is still alive and kicking.
Value- 8.5/10 – The 7985MG costs $85 yet performs as well as other servos costing much more, making it a good value.
Big Squid Rating- 9.1/10 – Tentacles. We highly recommend the Hitec HS-7985MG to anyone looking to up their game with a high performance servo. It's tough as nails and offers premium performance at a decent price point.