Hitec Multipurpose Ultra Premium Digital Servo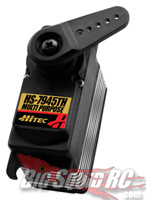 New from Hitec is the HS-7945TH Multipurpose, Ultra Premium, High Voltage Digital Servo. I'm not even sure how they are going to fit that name on a servo box! 🙂
This servo is basically the be all, end all servo for anything RC you may own! Planes, Choppers, Car, Trucks and Boats! It's described as high torque, high speed, optomized for 7.4v with a heatsink case and hardened steel gear pins! This all in wonder does not come cheap, but throw one in your tool box and your ready for anything! At 7.4v speed is 0.10 and torque is 319oz.
The HS-5665MH speed is 0.14 with 139oz of torque, and the HS-5685MH speed is 0.17 with 179oz of torque at 7.4v!
Hit up Hitec's site for more info.